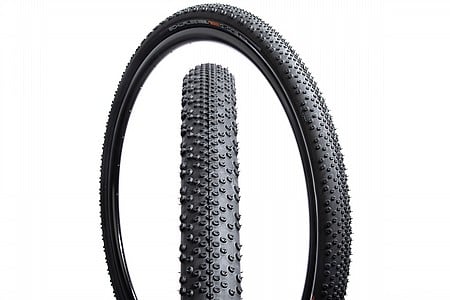 Bridges the gap between gravel and mnt biking
Bought these because they had better side wall projection than the All Arounds.
According to Gran Fondo Magazine, they roll faster than the All Arounds. This is likely true, but as a result they have less flat protection on the tread.
Love the more aggressive tread. I went with 2.1 in the 650b, so I also love the larger width. Worked pretty good in a few inches of snow, even climbing close to 20% hills.
Unfortunately they were a few mm's too wide for the my chain stays (Giant Revolt) and had to replace the rear with something narrower, even though I trimmed the knobs off the sides.
My buddy has a TCX and is able to run the 700c 50mm version without any rubbing.
I can fit fenders (the Revolt Fenders) on mine.
Only cons is the tread strength. I've punctured the front about 6-10x's. Haven't had to use a plug yet, but have had to add air a dozen times in a single ride on some really rocky terrain.
If you looking to bomb down really rough rocks, these might not be the right tire.
Could be I didn't have the pressure correct for the terrain, and these are gravel tires, not mnt bike tires, so still going with a 5 star.
Thank you for your feedback.
Competitive Racer
Sierra Nevada
1 of 1 customers found this review helpful.
Comparing the Scwalbe G One Bite with the G One Allround
After, 3,700 miles on the Great Divide, i would recommend the Allaround over the Bite for better durability and less likely to flat in thorn country, i.e., New Mexico.
Thank you for your feedback.