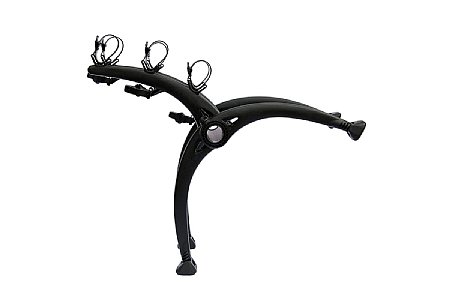 Casual Cyclist
San Francisco
1 of 1 customers found this review helpful.
Best car rack for its value
Pros We purchased the Bones rack for our Volvo XC60 and it turned out to be very easy to install and take down. It was study with our 3 bikes.
Cons with our 2 children's bikes, it ended up scratching the frame badly bc it doesnt provide enough clearance. Also only after a few times using it, the inner plastic on one of the bones has started to come off. I'm not sure if this will affect the use but it leaves doubts in my mind about the long term quality
Thank you for your feedback.
2 of 2 customers found this review helpful.
I put it to the test - great bike rack!
Drove through a tropical storm, 600 miles from Philly to Martha's Vineyard using the rack. Super easy to install and very sturdy. I strongly recommend this bike rack!
Thank you for your feedback.
Cycling Enthusiast
Pittsburgh PA
2 of 2 customers found this review helpful.
outstanding Bicycle carrier
This is an outstanding product that is lightweight, easy to set up (provided you check a couple of You Tube videos on its setup) and a breeze to use, and it holds the bicycle very securely. I was looking for a carrier with curved legs, just what this Saris Bones has, so that when my bicycle is in any of the three carrier locations on it including the one closest to the car, my carbon cranks and my peddles will not contact the legs of the frame nor contact any part of the car. In addition the strap that goes around the seat tube also insures that the bicycle will not swing inward toward the car nor outward. The bike is held snugly with tiny plastic points or knobs inside the three straps that actually contact the frame-the frame contact is thus minimal and gentle but snug. I have used the Saris Bones for about a month and even driving in very high winds the bicycle has been held rock solid still. This is a very big improvement over my previous Graber (parent company of Saris) which carried bikes OK, but, without the strap along the seat tube, a bike would swing in and out and clang up against the vertical legs of that carrier. I always keep an additional strap, that is recommended but not included with the Saris Bones, around the front tire and frame to keep it from wiggling during the drive. My only criticism, if any, is the instructions that come with it are only picture set up instructions, so checking some of the plentiful You Tube videos on it is worth doing in my opinion. I have only carried one bicycle so far, and typically in the space closest to the car. The carrier came with a slight crack in the liner on one side of the cross tube and when I called Saris, they promptly sent me a new liner- Nice customer service. I also have always had great customer service with Biketiresdirect.com.
Thank you for your feedback.
1 of 1 customers found this review helpful.
Bad for long trips
This rack did not work well for a long road trip. With 3 bikes there was a lot of rubs on the bikes no matter how I adjusted them. Eventually I had taped some padding in between the bikes. I wont put 3 on it again. Also with the weight of 3 bikes it ended up pushing the plastic bumper skin of my subaru down about an inch and left a lot of rub marks on the trunk. If you get this I recommend only carrying 2 bikes. With 3 its spaced to close and weighs to much for the bumper.
Thank you for your feedback.
Cycling Enthusiast
Inland Empire
1 of 1 customers found this review helpful.
A solid product!
I once had to borrow a bike rack from a friend, and it was this very model. I quickly purchased one of my own because of the solid feel and easy mountingdismounting of the rack. It also has the ability to fit three of my vehicles, Saturn Ion, Nissan Sentra, and A Nissan Pathfinder. A great rack at a very fair price.
Thank you for your feedback.
Casual Cyclist
Syracuse, NY
Cycling Enthusiast
Happy Valley Oregon
A very convenient simple and efficient bike rack but it ruined my paint job on my trunk!!
The bones 3 trunk mount rack is a very durable rack. It is aesthetically pleasing, lightweight, very simple to mount, with many adjustments available for proper balance and stability. I use it for two trek cyclocross bikes (50lbs combined) and it hardly moved on a 700 mile trip in varying weather conditions,but it did move. I am a fan of this rack by theory and would almost still recommend it, but now the troubles. My paint job is ruined on my brand new black car. I say ruined meaning it is scratched and rub marks where ALL the attachment points were. Literally every point. The unfortunate thing is this issue is inevitable. The trunk flexes. I now am unable to use my trunk rack unless I want to sacrifice the beauty of my car. As a sidenote I drive a black 2013 kia optima.
Thank you for your feedback.
Cycling Enthusiast
Tampa Bay area
5 of 5 customers found this review helpful.
The Saris Bones rack did just what i needed it to do,, very well.
I purchased the Saris Bones rack to ride GOBA. We took the wifes Toyota instead of my V10 F250 for obvious reasons. From Tampa, Fl to Dayton, Ohio and back with 2 bikes on the rack and not a problem. It was easy to assemble. After assembly (5 minutes) it only takes a few minutes to set up or collapse . At first I thought the plastic screws would not do the job. However after setting it up I saw that the teeth on the arms and barrel interlock. I realized steel screws were not needed. You don't need to over tighten the screws since the arms and barrel interlock and as such the arms won't slip out of place.
Would I buy another one, I don't think so. After using this rack I won't NEED to buy anoher one. I believe this one will last a long time. Would I recommend this product, absolutly. The designers put a lot of thought into this rack system.
Thank you for your feedback.