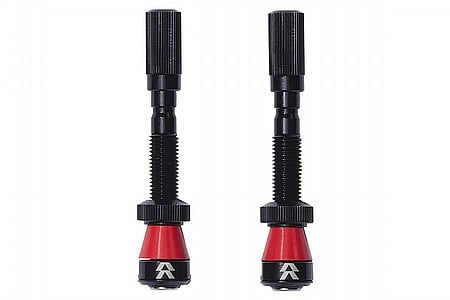 Better by design
Outstanding product! Better design, super quality. Makes tire mounting a breeze, but also sealant refill and pressure adjustment. Yes, don't loose the caps as they are larger than traditional presta, but you can forget the valve core replacement and tools. Just a superior product. Wait for a sale on BTD and buy.
Thank you for your feedback.
Cycling Enthusiast
Seattle, WA
Cycling Enthusiast
Chicago, IL
4 of 4 customers found this review helpful.
So far so great
Got these with a coupon for my new gravel wheels, along with new tires. At the same time, was also mounting a second set (mud) tires on my other gravel wheelset, so I got to A/B the Fillmore vs. the standard Presta setup. Valve installation is as easy as Presta, but where Presta requires removal of the valve core for tubeless tire installation, potential clogging of the core and need to keep replacements handy, Fillmore does not. Same for adding sealant--just put it in through the Fillmore. No fuss, no muss. it really is that easy and clean.
The only thing I can see becoming a problem is losing one of the metal caps, but for now I am very happy with these valves.
Thank you for your feedback.
Cycling Enthusiast
St Pete,FL
5 of 6 customers found this review helpful.
Totally worth it
I know people are pissed that these valves are so expensive, but holy schmokies I am a lifelong rider and an old woman and was able to set up my first ever tubeless tires with Fillmore Valves and a regular pump. I did not want to buy a compressor or special pump or go to the gas station to inflate bike tires. I used 24mm WTB tape (two wraps), Schwalbe 40mm G-One Allround Performance 700x40 gravel tires on WTB i19 TCS wheels, Fillmore Valves, and Muc Off sealant. I was so damn surprised that before I added the sealant that the tires inflated right away AND held air. I poured the sealant into the tire as opposed to using the valve because I felt like it was going to take too long for the Muc Off to work it's way thru the valve. Really - just a regular pump!
Thank you for your feedback.
3 of 8 customers found this review helpful.
Good but has some issues
These work great on my mountain bike but were not long enough for the rims on my gravel bike. Another issue is you have to use the cap. (The thing you have not used for years.) You better hope you do lose the cap. There is no easy replacement is available. That means buying a whole new set. Ouch!
Thank you for your feedback.