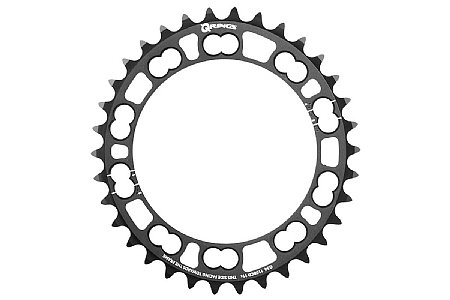 i'm a Q ring believer
i am a terrible climber, embarassingly bad. i doubt if i generate enough watts to light up a 30 watt bulb. even with a 5034 sram setup, i had trouble getting up the climbs. realizing that you don't get up steep grades with spinning and high cadence, i just could not grind it out. i did some research and came up with rotor's Q rings. i had shimano's biopace back in the day, but it did not work. what did i have to lose? i couldn't get any worse climbing. i put Q rings and hoped for the best. everyone i rode with noticed a change in my riding. i was not bring up the rear any more and i manhandled the climb that had humbled the year before. members of the team converted as well. Q-rings for the right rider can be a game changer. i had trouble riding the big ring before, but not with a Q ring. good luck. it's worth a shot.
Thank you for your feedback.
Cycling Enthusiast
Richmond, VA
if you need Q rings to climb..........and use a big Q, then you will want the inner ring
let's face it, as a bad climber, i have to scratch and claw in the small ring up a steep grade. when i get tired, it gets much worse. the inner ring is noticably not round, but gets the job done is getting up steeper grades. with it, i can get up there, it ain't pretty, but it beats walking your bike up the climb while covering your face and race number!
Thank you for your feedback.