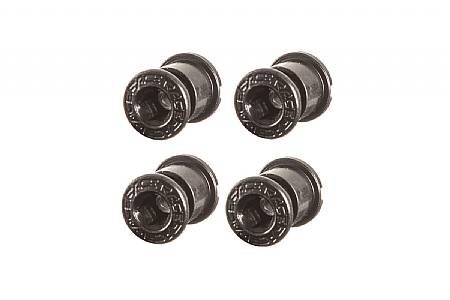 by
CrossStuntry StuntMonkey
Competitive Racer
New England and more...
0 of 2 customers found this review helpful.
Why save grams and seconds when you can Save Dollars and Minutes of Hassle and Frustration?!? Beats Me...
While I certainly appreciate lightweight anodized aluminum parts
(I call ELS - ExpensiveLightweightStuff, along with Ti, Mg, Carbon, etc.),
I Really LOVE Riding!!!
For example, I use Azonic Outlaw WheelSet on my CrossCountry (rather, CrossStuntry!) MountainBike, with 2.5Tires...
Extra weight (with stronger components) just means More Exercise (while on the bike and because you are ON the bike, and not fixing it!), Less Expense (especially in the long-run), and More FUN!!!
Saving ounces on CRITICAL Components that can Leave You Hike-a-Bike walking?
NO Thank You...
Just remember to use some never-seize or grease so that (ALL your BoltsNuts) torque easily, hold better, and unthread without worries when you need in the distant future (like worn-out Chainrings)...
Feel satisfied when you stop to HELP Someone, instead of being the one needing help... Just Sayin'...
Thank you for your feedback.