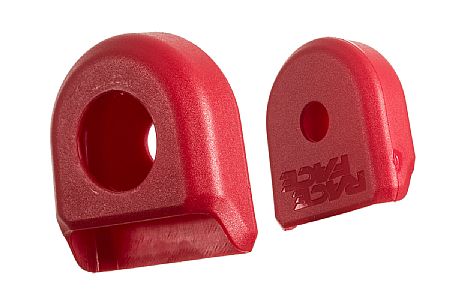 Cycling Enthusiast
Bend, OR
Competitive Racer
Las Vegas
0 of 1 customers found this review helpful.
Why didn't someone think of this sooner!
I ride a lot of technical terrain with lots of big rocks and step ups. I'm always beating my cranks into the rocks. I got a new 29er a few months back and put a set of these on my Sram XO crank. They fit perfectly and no dings in my crank!
Thank you for your feedback.
Cycling Enthusiast
Lake County, CA
Great idea, but check swingarm clearance!
I really like this idea and have wanted a set since I saw the Specialized version a while back. I mostly ride a hardtail singlespeed, and I find that when I get on my squishy, geared bike after lots of hardtail riding, I bang the carbon cranks on rocks for a while until I finally get used to the squish again. I have never broken a crank that way, but the sound is disconcerting. So... When I came across these on the BTD website I didn't hesitate. They are nicely made and simple to install. But the boot will not work on the drive side of my size M Tallboy Carbon with XX 2x10. It spins okay when the bike is on the stand or ridden on flat ground, but on hard climbs the flex is enough that it rubs the swingarm. I weigh around 175 fully kitted. Too bad. I am going to try them on another frame.
Thank you for your feedback.
Competitive Racer
Auburn, CA
1 of 1 customers found this review helpful.
Why not?
I bought these to protect my new Shimano CX-70 cross crankset. The boot fits tight on the drive side but is slightly loose on the other side. I like that they keep my cranks from making direct contact with rocks and such as I often ride my cross bike on MTB trails. Why not? You're going to buy a bunch of stuff, for [$] or so, you may as well add them to your shopping cart. You won't regret the purchase.
Thank you for your feedback.