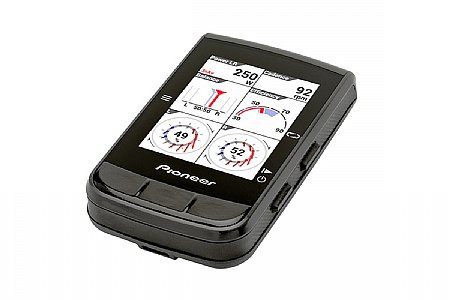 Cycling Enthusiast
Los Angeles, CA
Cycling Enthusiast
Aloha, OR
Can you get past the quirks and grasp the power!?!?
tl,dr if you are patient with the UI quirks, the device will give you really powerful data about the way you ride.
Exceeds expectations
This was a big upgrade from my Garmin Edge 500. Due to a left hip joint condition, I needed to see power output from both legs. I also needed to change my pedaling style to avoid future injury. The SGX-CA600 allows me to see not only the LR balance (I have naturally been favoring the right side 45%55%), but also the direction of force in the pedal stroke on both sides. This is REAL ULTIMATE POWER. These are some really cool features and the rat-hole seems to go as deep as you want, though I still haven't fully explored it all. Although Strava won't render this fidelity of data for post-ride analysis, Cyclo-Sphere will.
However, I don't know why you would buy this unit if you didn't need such a fat connection to the Matrix.
A lot of people in forums griped about the screen being visible outdoors. It's perfectly fine whether overcast or sunny - I don't get it. I'd bet they were not angling the mount up slightly as indicated in the manual.
Meets expectations
The navigation is actually a cool feature. Being able to sync my starred routes from Strava is handy. I don't have to print out turn sheets anymore and fumble around in my pockets for the sweaty disintegrated paper. None of the streets are labelled however, and it won't tell you how to get back on course if you wander off. And you can't hit the eject button and just tell it to take you home.
I like that it shows me messages from my phone while riding (unless it's work on Sunday morning), but the notification disappears pretty quickly so you have to pay attention.
Requires Improvement
I'm jealous of the reviews I hear of Wahoo devices and how easy it is to get set up and rolling. For reasons.
The Control app on Android is quirky. It doesn't use the native platform back metaphor - you use an in-app back-arrow. Every time you switch major menus, it throws up a message box saying that it's syncing settings.
With firmware updates, I have to keep my phone awake for the download to complete.
It's not always obvious why my logs haven't uploaded on occasion. I'll dink with the settings or reboot things and for example last night I figure out that I needed to reauthenticate with Cyclo-Sphere. Most of the time it just works and you don't have to plug your device into your computer. As long as you've opened the Control app on your phone, your log has hit Strava before you've hung your bike up.
Cyclo-Sphere looks like it was designed in 2005, but it's fully functional.
I still haven't figured out how to do Strava Beacon. The launch reviews said it's supported, but Strava's site makes no mention of any Pioneer computer on its list of supported devices.
I do not expect to ever have friends that also have a SGX-CA600 so I can live-track them.
Thank you for your feedback.
Competitive Racer
Portland OR