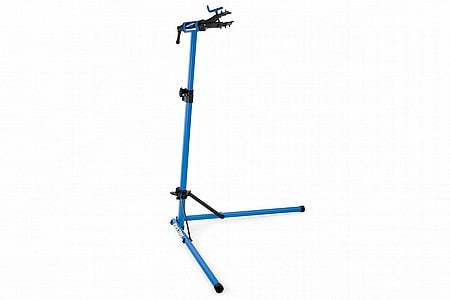 Cycling Enthusiast
Los Alamos, NM
1 of 1 customers found this review helpful.
Why did I wait so long to get a repair stand?
I'm really happy to have this tool and can't believe I waited so long to get one. This repair stand makes bike maintenance so much more ergonomic and safe. I became convinced I needed this tool during a ride on the White Rim Trail in Canyon Lands National Park. My friend Steve, brought a repair stand along and we (ten of us) all used it to lube and tune during the ride. I became hooked on the utility of repair stands.
Pros: The Park Tool stand is stable (yeah!), has really good adjustablity, folds up into a reasonable size and is portable. The quality of the stand is impeccable as with all Park tools. The price discount along with Gold Points from BTD was awesome and made this stand affordable to a frugal biker.
Cons: The clamping mechanism can be challenging to use while holding your bike and tightening the clamp. Make sure to have your force vectors balanced (ergonomically) so you don't twist your back or shoulder when clamping to a seat post. Also, the stand is pretty heavy which is good and bad. It's good for stability, but bad for your back if moving it around a lot.
Thank you for your feedback.
Cycling Enthusiast
Phoenix, AZ
1 of 1 customers found this review helpful.
Excellent Home Mechanic Repair Stand-The Park Tool PCS-9.3
This stand is used to service my Road Bike as well as my Mountain Bike. It is sturdy, easy to setup and adjust and is very stable once erected. The component parts are heavy duty and are all well-constructed for strength and durability. I highly recommend this product for at home bike maintenance, and you can't beat the quality for the price.
Thank you for your feedback.