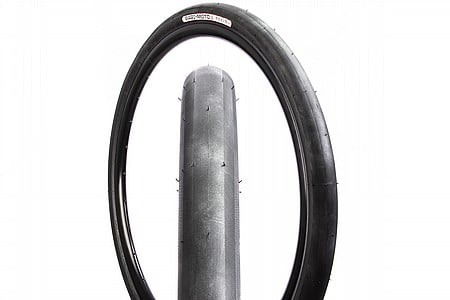 Cycling Enthusiast
Southeastern PA
2 of 2 customers found this review helpful.
so far, so supple!
I've commuted on the 42c version of this tire and it's worked great. I'm about 5'-11' and 180 lbs. and the bike is a MTB to 650b conversion. I ran the tires at 40-45psi with a porteur (front) rack, wherein I daily carried 15-30 lbs. The tires wore well, were secure in all weather (even minimal slush), and still have life after two years. No issue with flats, but the roads I ride are fairly well kept.
I just got a set of the 38c version for an all-road build (700 to 650b conversion). So far, I've done several 17-18 mph group road rides and a big gravel ride with 4000 ft. of climbing. For road rides, I've run 45psi. The rolling resistance is low and the cornering at speed is noticeably more secure than when the bike was set up as 700x33. I can sit right in with no issue, and only notice compression on harder standing efforts. I could increase the pressure but I'd rather keep the supple feel.
For mixedgravel terrain I use about 40psi, and could probably go down to about 38psi and not bottom out. On hard pack and gravel, the tire grips well and tracks true. I experienced some slipping on a 10%-ish climb with loose terrain and had to unclip, but that was extreme (and likely user error). Even at 38c, the tires absorb a lot of the roughness while still rolling smoothly.
I use CompassRene Herse tires on my dedicated road bike, so I know supple ). That stated, for my budgetutility bikes the Pari-Moto is comparable if not dead even in ride quality.
Thank you for your feedback.
Not Many Slick 650b Road Tires Out There
The Panaracer Pacenti 38c rolls well, even when fully loaded, as when I put two on my Surly Troll to tour Europe in 2019. Not a single flat in two months of riding. The rear tire wore out after 1200 miles, but not before I got home, surely due to the thin tread and heavy load. I don't mind since the price is so reasonable.
Thank you for your feedback.
1 of 2 customers found this review helpful.
Sorta ok
The first two I got I really liked- thin, light, supple- handled gravel nicely. I feared punctures, but never yet.
The second pair had a lump, lump, lump to it. Don't know if it was the front or back, it could be a mounting error, could be quality control. Don't know. Took them off, put on a set I knew were OK. I'll go back to the pari-moto's eventually, see if the egg shape is still there. I suppose that leaves me 5050-great tire, great price , probably not buy again.
Thank you for your feedback.
3 of 4 customers found this review helpful.
I like 'em
I've used these in sand, gravel, mud and pavement. No punctures or ripped casing. Surprising, since they are light, thin and flexible. A good price, too, for 650's. Don't need to get more yet, I got 4. I like all black casing-look better on a white bike.
Thank you for your feedback.
Daily Commuter
Portland, OR
4 of 5 customers found this review helpful.
Not what I was looking for.
I got these tires in 42 for a Twin Six Rando. They feel the best on dry urban pavement at a low psi but with little puncture resistance they went flat within a week. Running tubeless fixed that problem. Once things get wet these tires slide more then my usual WTB Horizon or Panaracer Pasela.
I will ride these tires till they're done but won't by another.
Thank you for your feedback.
Competitive Racer
San Francisco, CA
4 of 6 customers found this review helpful.
Light and fast rolling tire on both tarmac and gravel that easily punctures. 42mm purchased.
The Pari Moto is a great tire that is easy to keep above 34kmh on both pavement and gravel. However this comes at a price of puncture protection. The tire is easily punctured by shards of gravel and goat heads. If you're going on fire roads or single tracks running with inner tubes bring a lot.
I have this set up tubeless, with sealant so that helped with the punctures. The tire itself is not advertised as tubeless compatible and you will need sealant to keep the air in. Without sealant, expect the tire to be flat in 20 minutes.
If you only plan on using this on the street the tire is great, if you're looking on riding some gravel also, look at a different tire.
Thank you for your feedback.