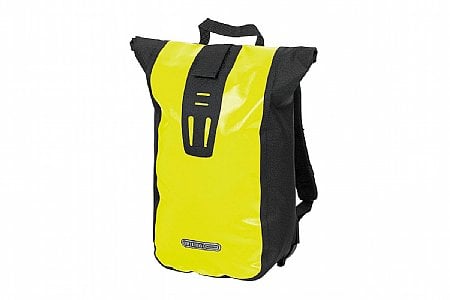 Cycling Enthusiast
Boston, MA
3 of 3 customers found this review helpful.
Great bag
I echo the comment of another reviewer about both the velcro closure not being reliable after a brief period of time and it would be nice to have a bit more of an organizer in it. From a durability standpoint this thing is bullet proof. If found the strap buckles to be fragile and have replaced the larger lower ones. I love the upper and lower cross straps. I ride 150 miles week commuting and I use this bag daily and have been for about 4-5 years and my only real complaint is the velcro is not reliable anymore.
Thank you for your feedback.
Competitive Racer
Chicago, IL
1 of 1 customers found this review helpful.
Well constructed, high quality bag!
I use the Ortlieb Velocity Backpack on my daily commutes to and from work. A well constructed, water-proof bag is critical to keep your belongings dry during the occasional downpour. The bag is surprisingly roomy despite its smaller appearance. The internal frame offers some rigidity to hold shape without adding weight. My only complaint is I wish the chest and waist straps were easily removable. Other than that, a solid bag built for years of use.
Thank you for your feedback.
Cycling Enthusiast
Seattle, WA
1 of 2 customers found this review helpful.
Waterproof, durable and comfortable
I use my Ortlieb Velocity Backpack daily for commuting in the PNW. This bag is truly waterproof and weathers daily abuse well. It is super easy to clean, too. Unlike many other backpacks, the Velocity fits well and comfortably while riding. I expect to have this backpack for years of commuting.
Thank you for your feedback.
Daily Commuter
Sequim,Washington
Great bag....but
I commute year round in PNW and this bag holds up. My only complaint is the Velcro strap which has worn out after two years of use. I contacted Ortlieb to see if it can be repaired but I never heard back. There customer service could be better. Timbuk2 has much better customer service. I added a strap like they use on their panniers and it works well.
Thank you for your feedback.
Basic and gets the job done
This bag rules! Chest strap and waist strap make cycling a breeze. Ill put d-locks, heavy chains, and what ever with no trouble. The little insert keeps my phone, keys, tool and wallet separate and there's tons of space. Back stays well ventilated and thunder storms can't get your things wet. Perfect bag for me, at a steal of a price.
Thank you for your feedback.
Daily Commuter
San Francisco
2 of 2 customers found this review helpful.
Great backpack except...
I live in San Francisco where it rains a lot. This backpack was my first choice after some European cyclists who were riding cross country told me Ortleib was the way to go if you want a pack that lasts and can handle harsh conditions. While the back is incredibly durable, waterproof, and has a cool design, it could be so much better
1. better waist straps (there is no padding and it is sort of uncomfortable if synched too tight)
2. Fastening mechanism (Dude, how do you not get this right? Just velcro? You need to have a latch or something to make sure it closes securely. I am not impressed with the cheap mechanism (a velcro strap) as the primary tool to close my bag.
3. Inside pouch should be larger or at least should have more options for things like a laptop. This bag can hold a lot, but it is hard to organize anything because there is not even an option to buy an add on to organize say a laptop in the back and lunch in the front.
4. Other things, but that is good for now )
Thank you for your feedback.