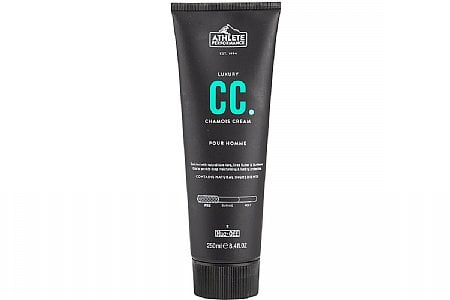 Awful petroleum-based cream
I threw this stuff in the trash after one use. First off, when it was delivered, the smell permeated our whole house - I had to put it in the garage and open the windows. The scent is something like your grandma's perfume drawer exploding, and it is unbelievably persistent... it took three washings to get it out of my shorts. The worst, though, is that the ingredient list is straight out of a chemistry lab (petrolatum tops the list) - pretty much what you would expect to find from a company better known for making solvents and synthrtic lubricants. But petroleum products are not what I want on my nether region. Shame on me for not researching it more carefully, but one wonders why they seem to go to such lengths to conceal their ingredients when other chamois cream makers publish the info prominently. Maybe they are ashamed. But at least they publish this warning and chemical hotline number with the cream: KEEP OUT OF REACH OF CHILDREN. CHEMTREC: 1-800-424-9300, 24 HR.
Thank you for your feedback.
Cycling Enthusiast
Marin county
Cycling Enthusiast
San Jose, CA
1 of 1 customers found this review helpful.
As good as Assos, if not, better
I've been using Assos chamois cream for years. I tried this because the Assos was out of stock on BTD. Not sure if I'll go back to Assos.
It's thicker than Assos, so, I tend to use a bit less, making it more economical. It works as well as Assos - no chafing, no issues, even when I've ridden in the rain. It does what it's supposed to do. As for it's ability to "deeply
deeply moisturize your skin for total riding comfort and protection..." I cannot speak to the moisturizing part, but, it seems to hold up, even on long (4 hour) rides in both warm and cold temps.
Thank you for your feedback.
Sweet product for riding
I have always used a different chamois cream. I have always had problems with friction even using the other product. This included some residual issues after getting off the bike. I ordered this Muc-Off Luxury Chamois Cream and I am so happy I did. I no longer have post ride issues and my skin has completely healed using the Muc-Off Chamois cream. I like the smell and the cooling affect it provides. I wish I had tried it a LONG time ago. It has made my cycling life so much better now.
Thank you for your feedback.
Surprise fave
I bought a few chamois creams to try and this was a surprise fave. The container is huge! The cream is thick! Muc-Off hit it out of the park by putting a larger nozzle on this one so the application is easy. I'm a lady and this does have a dude-scent to it that is strong and lingers but I love it! But then again I also loved my dad's grey flannel...
Thank you for your feedback.