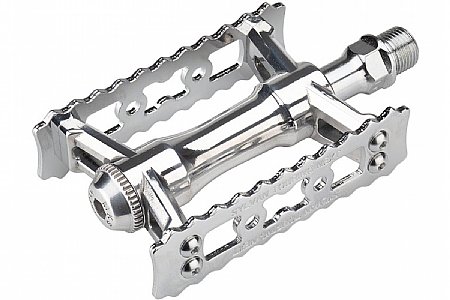 Cycling Enthusiast
Seattle, WA
1 of 2 customers found this review helpful.
Gorgeous and Buttery
I love MKS pedals; they're a great value and easy to maintain, so I decided to try the Touring Next pedals. I just pulled them out of the box, and man oh man are they gorgeous! I almost don't want to install them, but of course I will! First thing I noticed, these are the smoothest pedals I've ever seen coming right out of the box- and I have tried at least ten different kinds of pedals over the last 50 plus years of cycling. Remarkable, for a sealed bearing pedal to be this smooth. Another thing I noticed right off - you won't need a pedal dust cap tool to remove the cap - a 7mm hex works! However, I have no idea how to access the locknut inside (It looks even tighter than removing a Zeuss 16 mm crankset bolt, but at least you can still find a 16 mm peanut butter wrench every now and then, or replace them with 15 mm bolts). Oh well, since they're sealed bearings I'll probably never need to pull them or adjust them - just add a few drops of lube. I'm excited to put these on one of my bikes and try them out.
Thank you for your feedback.
0 of 1 customers found this review helpful.
Great pedals
I ride with the MKS Sylvan touring pedals and the m k s Next touring pedals. Probably my favorite of the pedals I own including Crank Brothers stamp 1, Crank Brothers stamp 7, and bontrager elite. There seems to be absolutely no friction with these pedals. I noticed a difference and I'm not particularly a professional oh, just an amateur who likes touring and mountain bikes.
Thank you for your feedback.
1 of 2 customers found this review helpful.
sweet and smooth
Nice size platform for my number 12s. Just enough grip to hang on, not quite as grippy as a pure mountain bike pedal with pins. I used them mostly for XC, trail and bike packing. I have them on a 29er hardtail for trail riding, and a vintage steel frame road bike. In a way I like them better than my mountain bike pedals with pins, they seem a little more comfortable. That is not exactly objective observation
Thank you for your feedback.
Cycling Enthusiast
Missouri