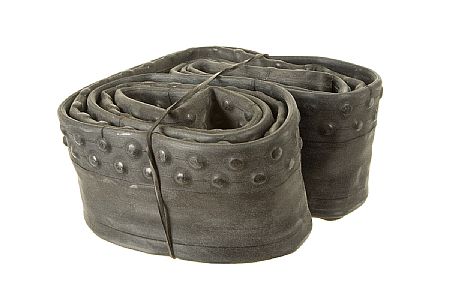 Cycling Enthusiast
Phoenix
Cycling Enthusiast
El Paso TX
5 of 5 customers found this review helpful.
Excellent Value two years old now and no flats
I purchased 4 of these about 2 years ago (2 for my road bike and 2 for my wife,s touring bike). Place them inside Michelin tires and neither of us has had a flat yet. We live in in area where flats are are common occurrence as the trees here drop very sharp spiny thorns.
My neighbors use slimy tubes and slimy fillers and they are consistently fixing their flats.
Thank you for your feedback.
Cycling Enthusiast
Reno, NV
4 of 4 customers found this review helpful.
Goat Heads Be Damned
In my area we have goat heads galore. I average 1 goat heads per 10 mile ride and I make a conscious effort to stay on the pavement. That means I was repairing a tube after or during every ride. I put one of these baby on and, as usual, got a nasty big goat head half way through the ride. When I pulled it out I could hear the air escaping for about 3 or 4 seconds and I thought I was done. But no! It quit leaking quickly enough that I finished the remaining half hour of my ride and it was fine. Didn't even have to add air. From here forward there's only one kind of tube going in my mtn bike tires. And no, my last name's not Michelin -)
Thank you for your feedback.
3 of 8 customers found this review helpful.
Not worth the effort
The tube comes with a very small valve to add air, which was not clear to me when ordering the tubes. These do not take a regular air pump to fill the tire. The tube does not come with any adapter to allow filling the tube from a traditional pump. I went to a local bike shop. They had what I needed and would not even take the tubes - free - for someone who may want them. They are filled with anti-leak material and they said that no one wants these. I donated them to habitat. The effort to return these to Bike Tires Direct .com was not worth the effort. These tubes are way to expensive.
BikeTiresDirect.com Comments
Hi, I'm sorry about the confusion with valve options on those tubes. We offer tubes with either the schrader or presta valve. Schrader valves are what you would see on a car tire and often require a different pump than a presta valve. Most bike pumps can do either. If you have a presta valve and wanted a schrader you can either exchange the tube or use an adapter to fill it up with air. The adapter, made by Genuine Innovations, allows you to pump your tube up with either type of pump head. Let us know if we can help you any further! Jeremy
Thank you for your feedback.
Cycling Enthusiast
Southern Idaho
7 of 7 customers found this review helpful.
Great Tube!!
This is a great Mtn bike tube for areas with goat head thorns. So far I have ridden 200 miles with out a flat puncture. I have never done that with any other sealants in tubes. I have tried them all !!! I'll post again as the summer months begin.
Thank you for your feedback.
Cycling Enthusiast
Douglaston, NY
Casual Cyclist
South San Francisco
9 of 10 customers found this review helpful.
Beefy tubings!
I use these on the day I went mountain biking and they lasted. I like how it felt heavy duty as I placed them in and no need for extra attachments to pump air into them. They are great, bought them 5 weeks ago and are still good.
Thank you for your feedback.
Casual Cyclist
Seattle, WA
This tube holds air better than other tubes Ive tried.
I use this on my MTB with Continental street tires. I use the bike on roads, trails and hard pack gravel. I've gotten punctures with this tube but the slime slows the rate of air loss and it's enabled me to get home without changing the tube.
Thank you for your feedback.