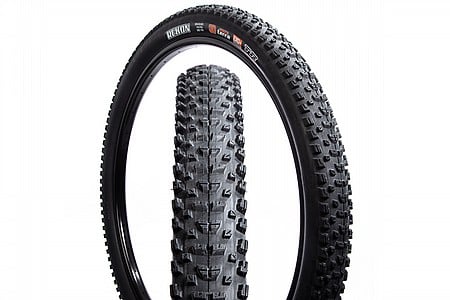 Cycling Enthusiast
Arizona
Cycling Enthusiast
SouthEast WIsconsin
1 of 1 customers found this review helpful.
Excellent trail feel and highest quality
After one season the tires have performed so well I will be purchasing a replacement.
I coach 3 x per week and ride and race in addition to the coaching. I immediately felt the grip and control of these tires. It gave my bike that Brand New feel again and I was wiping and hoping through the trails. I did encounter a unexpected deceleration while riding including a sideways slide. Through this I managed to damage the sidewall of the rear tire creating a scuff deep enough to leak and the rubber portion of my wheel now has a side to side deflection that is visually obvious. Since the tread is excellent yet, I put a tube in the rear for now. The tire damage is not to suggest these are weak or low quality tires. I encountered a "road hazard" on the trails and the tires stuck harder than the bike. I will purchase a replacement of the same model. Tires are mounted tubeless on a Fuel Ex 9.8. I ride a mix of styles on xc and trail clusters.
Thank you for your feedback.
2 of 2 customers found this review helpful.
Excellent protection and performance.
I use this tire in a 'dual sport' mode. Half my riding is heavy braking and bad lines that we coaches encounter while sweeping NICA student athletes. The other half is pounding singletrack. The EXO+ is very appreciated. I have many sidewall scuffs after half a season but no rips, stretches or weeping sealant. I run 19 lbs for a 185 lb rider on a FuelEx 9.7. the wide rims really hold the 2.6 wide tires with out rolling the tire on hard turns.
Thank you for your feedback.