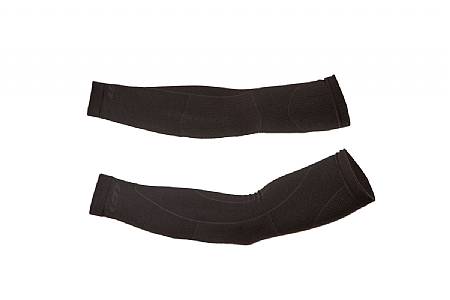 User submitted reviews
Review by SantaBarbaraBiker

Cycling Enthusiast

Santa Barbara, CA

Good value for the price

Lightweight arm warmers fit snugly, and they stay in place. Although they claim one size fits all they are a bit short on me cause I have 34 arms but it's still not a problem. I'd buy them again, for sure.

Thank you for your feedback.
Review by PDXDUDE

Cycling Enthusiast

Portland, OR

3 of 3 customers found this review helpful.

Great No Frills Arm Warmers

I typically use arm warmers in the 55-65 degree range and these are perfect. Its hard to tell online, but these are basically a woven fabric with more compression at the wrists and bicep area. What is great is they have minimal seams, so no rubbing. They remind me of the warm things NBA players use. I like that they breathe well, the flip side is that they tend to run a little cooler than most warmers I've tried. But I've noticed that when I get hot and want to take them off, the sweat really helps cool so I usually leave them on. One possible downside, they are very tight and compress a lot, so if you have big guns, avoid these, but they don't have any issues with sliding down. They are also perfect for race cut jerseys. Also, if you like to take your warmers off while riding, good luck. These things are a PIA to get off while riding because of the compression.

Bottom line Great minimal arm warmers if you arent a weenie that needs to be totally warm while starting out and have skinny arms.

Thank you for your feedback.
Review by Anonymous

Great arm warmers and well made

People with large arms may feel they are too tight.

Thank you for your feedback.