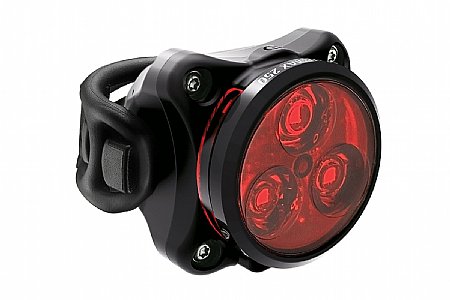 Cycling Enthusiast
San Francisco, CA
Cycling Enthusiast
Manhattan Beach, CA
Cycling Enthusiast
SE Washington State
1 of 1 customers found this review helpful.
Great rear light
This is a great rear bike light. VERY bright. I feel a lot safer riding city streets knowing I am definitely visible from behind. (Visible over a mile in low light, 12 mile in daylight). The rechargeable battery lasts pretty long depending on the mode you use. Not an expensive light, works well, Im happy.
Thank you for your feedback.
Cycling Enthusiast
Roanoke, VA
Cycling Enthusiast
Warren, Mi
2 of 2 customers found this review helpful.
A great upgrade
I bought this together with the Lezyne zecto max front light. This was to replace a bontrager flare light which accidentally got ruined while riding in rain (forgot it was there). Either way, I like the design and the multi flash options.. I specially like the daylight burst. People notice me more now per my other cyclist pals. Also the re-chargability is a plus.. no more batteries.
Thank you for your feedback.
Handy for short seat posts!
Failed to anticipate that the horizontal top tube on my new bike would mean less exposed seatpost to mount things on than my older bike with its downsloping top tube. Am using a Varia 515 clipped to the loop on the back of a medium Topeak saddlebag, leaving just enough space for the Zecto strapped on the upper part of the seat tube between the bottom of the saddlebag and the tops of the seat stays. The Lezyne Strip Pro I had been using is simply too tall to fit anywhere back there. The Zecto's circular shape and small size bakes it handy for tight situations like this.
Love the Varia 515's radar, but at 65 lumens its light simply isn't bright enough for me in the daytime. So using a taillight in addition to it. The 250 lumens of the Zecto is far better!
Noted another reviewer's experience of scuffing of the seatpost by the Zecto's clamp. Stuck an adhesive felt circle (normally used to pad furniture feet) on the inside of the Zcto's clamp, so far so good!
Thank you for your feedback.