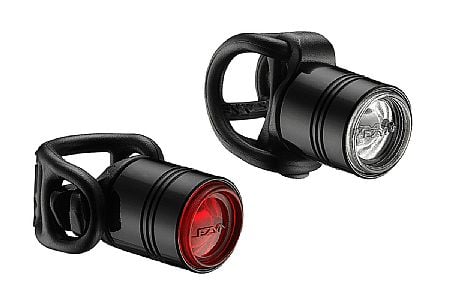 Cycling Enthusiast
Madison, NC
Cycling Enthusiast
San Francisco Bay Area
Cycling Enthusiast
Folsom, CA
Cycling Enthusiast
Mlps, MN
Cycling Enthusiast
Denver, CO
Cycling Enthusiast
Vancouver WA
2 of 3 customers found this review helpful.
The light only works sometimes. There is bad contact between the battery and the bulb. Instructions were not clear. Lights are hard to mount.
I use the lights on my bike. Have very little positive to say about it.
Thank you for your feedback.
Cycling Enthusiast
vermont
3 of 3 customers found this review helpful.
Update on useability
very easy to strap onto the bike (handlebar and seat post for me) and works well. discovered that by holding the light in for a longer period of time-when you press to change light options-turns the light off. much easier than my mistaken belief that you have to cycle through all the options before getting to off.
so packaging is horrible, no instructions is a mistake easy to just print a few lines on the box, but useability is great.
Thank you for your feedback.
Cycling Enthusiast
vermont
5 of 8 customers found this review helpful.
The pinnacle of over-packaging frustration
The packaging on this product is so inane that you will, like me, want to line up the person who designed this and slowly [insert unpleasant bamboo-related scene here. -Staff].
I cannot overstate the difficulty of opening-no, of trying to dismantle the plastic casing and the thick and overly tight zip tie assembly holding these two small and lightweight lights. I believe Lezyne searched high and low for a person to design this packaging and they came up with the same person who conceived of the German Engima machine.
You will spend 15 minutes trying to open this package in a way that will not to destroy the product itself. It can be done. I did it...but you'll never get that time back and it's very easy to cut yourself on the tip of the exposed zip tie which for some inexplicable reason has been sharpen to the point of a sewing needle.
Meanwhile there are no instructions for securing the lights to a bike so study the pictures on the website.
I like the push onoff feature but unfortunately there are 5 different flashlight options, so it becomes rather tedious to cycle through them all just to get to off. Why not have on, flash and off? No-no-no-no there are four different flashing options.
I'll update the actual product use quality after using it a few times. The only concern would be the security of the rubber loops around the plastic tabs-one end is fairly loose, probably purposely to help wrap around the bars.
Thank you for your feedback.