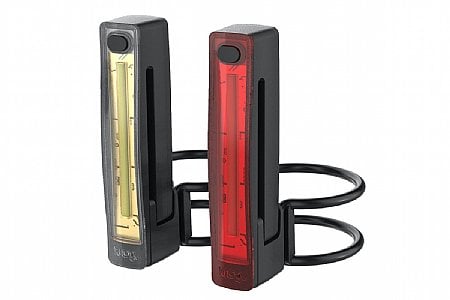 Cycling Enthusiast
SW Florida
Competitive Racer
Houston, TX
Excellent, versatile lights
Excellent, robust lights, with good range and charge capability. Wondered if the magnet would be strong enough to hold light in place for off-road riding, but all good in that respect. Could have done with two sizes of securing bands so that more locations on bike could be used, but all in all, a great pair of lights.
Thank you for your feedback.
Cycling Enthusiast
Jackson, MI
Versatile Lights
Picked up these lights on sale. I was a little hesitant but turned out to be a good purchase. The lights can be mounted almost anywhere. I have the white light on the front of the bike under the handlebars. The red light is mounted to my seat stem. In the slow flashing mode I get about 10 hours before having to recharge the lights. Speaking about recharging. Very simple USB recharge. Work like a champ!
Thank you for your feedback.
1 of 1 customers found this review helpful.
Great buy! My go to!
These lights are inexpensive, work well, are light, low profile. Not quite suitable for dark trails at night but general commuting or riding urban areas during low light times they're great. The various ways to attach the light are super convenient. Great product.
Thank you for your feedback.