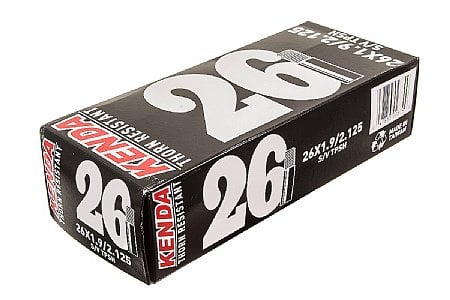 7 of 7 customers found this review helpful.
Excellent tubes for harsh terrain, thorns, sharp rock, urban glass and such
I use these on my hardtail 26 MTB in the Rio Grande Valley (New Mexico), land of the goathead, aka puncture-vine. A regular tube might last ten miles between flats, and it always happens at a bad time and a bad place. So I got these Kenda TR tubes and put 'em in. Hey, no more flats!! Seriously, these things have gone about 600 miles with no punctures. The tires get stuck with goatheads, but never penetrate the tube. I periodically dismount the tires and pluck out the thorns with needle-nose pliers.
Only disadvantages are they're heavy, if you prefer light wheels, and they're kind of hard to mount, stuffing all that rubber in.
Thank you for your feedback.
Valve separated from tube
Like Chris from Phoenix, I too experienced separation of the valve from the tube. Mine were purchased for a large garden cart in September of 2015. After a couple of months, with very little use, one tube went bad. A year later, the other is still holding.
Thank you for your feedback.
1 of 1 customers found this review helpful.
Failed Immediately Upon Inflation
As soon as I inflated this tube it started leaking from a pinhole defect near the valve stem. I had read about others having this problem before purchasing but decided to take my chances. Clearly there is a systemic quality problem with these tubes. Not recommended until the manufacturer proves they have remedied this problem.
BikeTiresDirect.com Comments
Hi there, If you run into an issue like this please reach out to our customer service department. For defective products we are happy to get replacements out immediately. Thanks! -The BTD Team
Thank you for your feedback.
1 of 1 customers found this review helpful.
No more flats
Using these on mountain bike with street tires and have had no flats. Normally get lots of flats from goat head thorns but with the thicker outer tube the thorns do not penetrate the tube.
Would highly recommend these tubes.
Thank you for your feedback.
7 of 7 customers found this review helpful.
Love these tubes, they live up to their name!
After experiencing 3 flat tires in two weeks due to nasty thorns on my new daily bike route, I replaced my ordinary tubes with these Kendall thorn resistant tubes. Staying on my same route, I haven't had any more flats in the six weeks since! Yay! They were really no more difficult for me to install than the light-weight tubes.
Thank you for your feedback.
1 of 3 customers found this review helpful.
I have not really proven if this tube is indeed thorn resistant...against Goat's Head.
I have not had a flat tire yet ever since I bought this tube...I still need to know if this tube can withstand that evil GOAT'S HEAD thorn...if you folks are familiar with this thorn from a grass looking weed...We were out camping for 3 days and we have a total of 8 flats...that was a very disappointing experience.
Thank you for your feedback.
Casual Cyclist
orange county, ca
Casual Cyclist
southern Ill
Casual Cyclist
Charlotte, NC
5 of 5 customers found this review helpful.
If you don't like constant tire replacement, I highly recommend you use these innertubes.
Aside from thorn resistant, these inner tubes are great for high heat resistance as well, not as likely to pop in a storage shed or shipping. I wouldn't use a regular tube in any bicycle I've ever owned, I've always used thorn resistant tubes and always have high success with them.
Thank you for your feedback.
Cycling Enthusiast
New Jersey
Cycling Enthusiast
Phoenix AZ
21 of 21 customers found this review helpful.
Kenda tubes - nice and thick but unfortunately the valve separated from the tube on both 26 tubes
I purchased two Kenda 26x2.02.125 thorn-resistant tubes for a
mountain bike which is used mostly on the street but subject to the
goat-head thorns which quickly puncture most tirestubes. I prefer
thorn-resistant tires since they are thicker and usually last several
years without punctures. I have used other brands of tubes
(e.g. Avenir and Bontrager) but this was my first time using Kenda.
Unfortunately, On both of these Kenda tubes, the valve separated from
the main tube so they leak air very quickly. It seems that the factory
ran the blue alignment line under the place where the schrader valve
bonds to the tube, which may have contributed to a poor bond and
failure. (You can see the blue line running under the valve in
the BikeTiresDirect photo of these tubes).
The tubes are made in Taiwan and in other ways, these tubes seem to be good quality.
but I will not purchase this brand of tube any more due this defect.
I think Kenda needs to solve this manufacturing problem.
Also, other reviews of these tubes e.g. on Amazon indicate that other
people have seen this tube fail in this way. I wish I had read those
reviews before ordering them.
Otherwise, if the tube did not have this defect, I would have rated them
as an excellent value.
I was thinking about trying to get some wet-suit cement to fix them
but I don't think I will bother.
Thank you for your feedback.
Cycling Enthusiast
Saint George, UT
8 of 9 customers found this review helpful.
Excellent Flat-Resistant Tube
I have not had any flats since switching to these puncture-resistant tubes. I highly recommend this product to anyone experiencing frequent flats. Kenda also offers a puncture-resistant tire. The combo virtually eliminates flat tire inconveniences.
Thank you for your feedback.