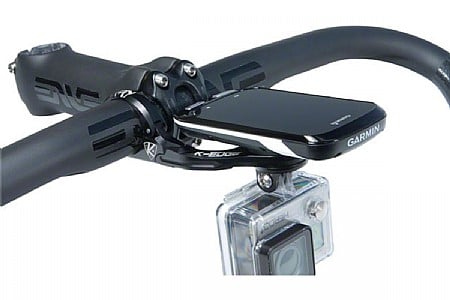 Quality and style
I really like this mount for my Garmin 830 and Go Pro camera. It's sleek and stylish with a quality feel. I finally have a convenient way to bring my gear without the quirky chest strap or helmet mount. Great experience and fast shipping.
Thank you for your feedback.
Cycling Enthusiast
Los Angeles area
AWESOME mount for GoPro - or light, etc.
I use this mount with a NiteRider lumina light attached underneath the Garmin; the light is upside down and it required purchasing a small adapter.
This is also probably a great place for a gopro too!
Thank you for your feedback.
Quality product
This unit is bulletproof. Easy to install & then forget. It's in the same place every ride. It doesn't wiggle or vibrant. GoPro mounts solid & stays in place. When not using a GoPro I mount a light there. Very happy with this product. Got one for my wife.
Thank you for your feedback.
Beautifully Made
I have other Garmin mounts. I wish I'd purchased the K-Edge first. It is light, beautifully made, and the GoPro mount makes it easy to add a camera or front light where you want it. Installation was a snap with the mount fitting on my 32.8 Pro bars perfectly. Its position accommodates my Garmin Edge 820, holds it well clear of the stem, and makes it easy to read, in or out of the saddle.
Thank you for your feedback.
Cycling Enthusiast
New York, NY
Love it!!!!
Made from 6061t6 aluminum alloy! Very sturdy! Black anodized finished! Taken all these in consideration, this is well price!I got this mount so I could 'clean up' the cockpit of my road bike, combining my Garmin Virb mount and bike computer mount. The length is long enough to clear all my cables, and not get into the way of them while I turn my handlebars. The weight is nice and low, while keeping it super stiff, so the video I take is nice and stable. The hinged design makes it easy to mount... my older one I have on my cyclocross was not hinged so I had to take out two screws to mount, this one only takes one. The quarter turn computer mount is nice and sold and doesn't allow my Garmin 1000 to wiggle while riding. The camera mount below comes with a screw and is compatible with GoPro cameras and Garmin.
Thank you for your feedback.
Cycling Enthusiast
Boulder, CO
Throw away the plastic Garmin mount !
The KEdge mount is great. The machined metal and powder coated mount for the Garmin devices also has, with the proper mounting hardware, the ability to hold a Nite Rider light. Slick, clean and compact
Thank you for your feedback.
Cycling Enthusiast
New Jersey
Great product design and execution.
The K-Edge combo mount for Garmin and Go-Pro has provided exactly what I was looking for a rock-solid mount for my Garmin GPS unit coupled with a way to mount my Go Pro in a secure, vibration-free manner.
The Garmin mount is easy to use (turn and lock in) and very secure - zero issues with the Garmin becoming loose even when traveling over rough terrain. The Go Pro mount is unobtrusive, and very secure - - no concerns with the unit working lose, falling off, etc. It holds the Go Pro very firmly, with no shakingbouncing whatsoever so the images captured are as clear as possible.
Overall, an excellent product.
Thank you for your feedback.
1 of 1 customers found this review helpful.
Great mount for Garmin and Cygolite. It cleans the cockpit
Great dual mount however it starts rattling on the first 20 miles of the second 50 miles ride. Turned out, the front piece unscrewed itself from the main body. Its a nuisance to tighten the screw every after ride but I kept it due to its purpose to clean up the cockpit. Well worth the money I spent.
Thank you for your feedback.
Cycling Enthusiast
Houston
Cycling Enthusiast
Santa Clara County, CA.
by
SourthernWillametteValley
Competitive Racer
Eugene, OR
2 of 2 customers found this review helpful.
best extension out there
K-Edge is the way to go if you want an out front mount. Others try and to duplicate but this is the only way to go. Its nice as I can run both my Garmin 820 and my Cyliq without any cable interference.
Thank you for your feedback.
No more cluttered handlebars!
Pros
-Easy to mount
-Garmi (820) literally clicks in place
-Video from my GoPro Hero3 was more stable using the K-Edge compared to an OEM GoPro handlebar mount
-With a NiteRider Lumina GoPro adapter, I was able to mount a light to the K-Edge as well.
To nitpick
-Still a bit pricey
Cons
-The socket cap screw for the GoPro interface is worthless. To tighten the GoPro in a stable position, the head got stripped, resulting in me having to use an extractor bit to remove the screw.
Tips
-Use a Thumbscrew in lieu of the socket cap screw. Although it may not be aesthetically pleasing, it will make for adjusting and swapping a lot easier.
Thank you for your feedback.