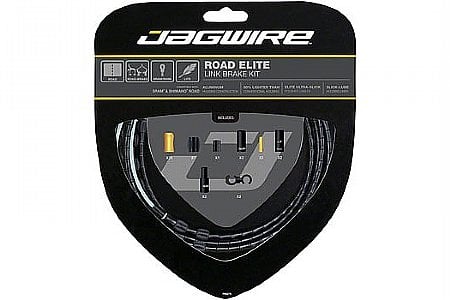 Should outlast me
I picked up a used time trial bike that had cracked housing and replaced it with this kit. I ended up running full housing to the front & rear (under bottom bracket) brakes without using up all of the links. Brake feel instantly improved and it handled the internal routing better than anything else.
Pros: corrosion isn�t really an issue, strangely lightweight, individual links can be replaced, bendy, replacement liner is available & inexpensive
Cons: price, other bikes are jealous
Thank you for your feedback.
6 of 6 customers found this review helpful.
Light, smooth and powerful
These are expensive cables no doubt, but they're effectively a buy once product because the sealed lubrication keeps them lasting a long long time. Performance is absolutely top notch in terms of low cable friction, good modulation and slippery smoothness. You'll also lose a good chunk of grams with these if you're coming from traditional housing. All said and done, they're absolutely worth the cost premium.
Thank you for your feedback.
3 of 5 customers found this review helpful.
Great for tight corners
My rear shift cable makes a hard almost 180 degree turn from the end of the bar tape to the head tube (2012 Trek Madone). All other cable housing I have tried tends to steer the bike and eventual bind up and crack. Jagwire has solved my problem.
Thank you for your feedback.