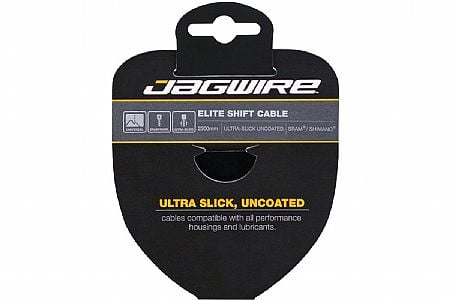 User submitted reviews
Review by Anonymous

Noticable difference

I've been a big fan of Jagwire products for many years. I thought I had the best cable systems on my bike. Then I discovered the Elite cables. They are pricey, but I've never had such fast and accurate shifting, a noticable difference. These will be the cables for my bikes and any bike I work on.

Thanks BikeTiresDirect.com, for making it so easy to get what I need so fast

Thank you for your feedback.
Review by Steve F

Smooth shifting.

New cables are always nice but these seem smoother than stock Shimano cables and they definitely last longer. I had about 3000 miles on the rear derailleur cable and thought it was getting frayed since my downshifting was sluggish but it turns out the new cassette I installed was apparently a different width - I went from 11-30 to 11-32. The cable still looked like it was in good shape, not sure how much longer it would have lasted but the Shimano cables typically last about 3K it seems so I'm impressed with these, I feel like paying the few extra dollars is worth it.

Thank you for your feedback.