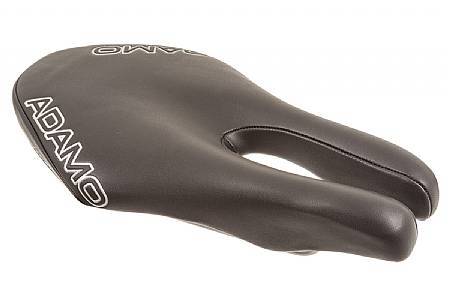 Cycling Enthusiast
Scottsdale, AZ
4 of 4 customers found this review helpful.
Comfortable saddle for all types of road cycling.
This the second Adamo Road saddle that I have acquire. Per another review this saddle takes a bit of getting used to but once you do it is very good. It takes about ten rides... I have one my Cannondale Evo 6 red bike and now this one on my Scott road race bike. The saddle gives a whole new meaning to on the rivet!!!! Going into the drops is much more comfortable with this saddle than the stock version supplied with most serious road bikes. This is certainly worth a try as this it alleviates pressure on the perineum and when you are in that forward race aero position this saddle really comes through. One recommendation is take some time to fit this saddle to your bike and your riding style position.... it makes a big difference to get it just right...... Highly Recommended!!! (Have a good ride!!!)
Thank you for your feedback.
Cycling Enthusiast
Bellingham, WA
Strange looking saddle! Seems to help the problem as advertised.
Jury is still out on this one! I bought this saddle at the encouragement of my urologist. So far, (about 15 rides), I am still not used to it. I am still tweaking the position (forwardbackward) to see if I can find a sweet spot where it will feel good. Incidentally, the prostrate problem has gone away. So I am happy about that. Just can't get it to be comfortable. By the way, this is on my road bike and I have been able to ride it about 25-26 miles so far, whereas before I could ride 30-40 miles without discomfort.
Thank you for your feedback.
6 of 6 customers found this review helpful.
Comfort from the first ride
I've ridden for years thinking that some degree of numbness after a long ride was just part of the right of passage. After just a few rides, I believe that is a misconception that I'm glad to be rid of. This isn't a cushy saddle, but it provides the comfort over longer distance that I for one have been missing. I look forward to enjoying a more comfortable riding season and I would recommend this saddle to anyone looking for a more enjoyable ride..
Thank you for your feedback.