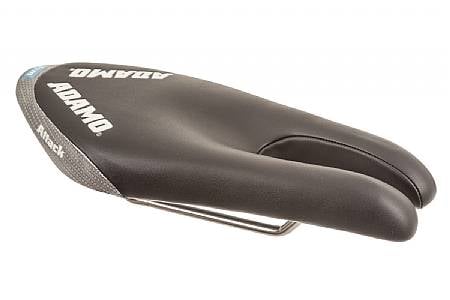 Cycling Enthusiast
Columbus, OH
4 of 4 customers found this review helpful.
Very comfortable after getting used to the different configuration
I had an ISM Prologue before. The Attack is noticeably narrower than the Prologue, which was causing some shafing regardless of the amount of chamois crime I was putting on. I haven't had this problem with the ISM Attack. It is used on a TT bike for training and competing in triathlons - mostly Olympic distance (40 k). If you have used a conventional saddle before, it will take you a while to get adjusted to an ISM saddle. But the reduced pressure on the scrotum is noticeable and very welcome.
Thank you for your feedback.
2 of 4 customers found this review helpful.
Love it!
I used the Adamo Breakaway for years but after that saddle began to breakdown I new I had to replace it. I first tried the PN 1.1 and after a few rides determined that it was just way too soft for me. It almost felt like I was sinking into the saddle, which I really didn't like. Tried out the Attack and by the second ride, loved it. Really like the shape of the saddle compared to the breakway. I like that sides are not as wide and do notice a difference when I am positioned further back on the saddle. The description on the adamo site say it's one of their firmest saddles, but in reality it's not that bad. Maybe I am just used to riding a firmer saddle but I have been fine with the Attack during 4 hour rides in tri shorts, and have not problem getting back on the bike the following day to ride again.
Get it you'll like it.
Thank you for your feedback.