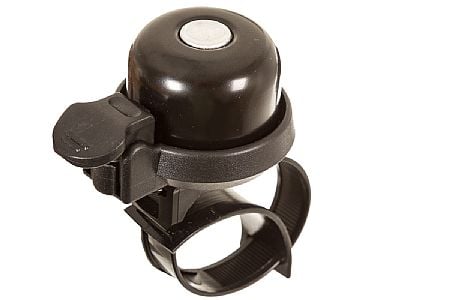 It dings
It's ok. It really needs a rubber strip between bell & bars to keep it from rotating when you press the lever. The zip-tie-style attachment just doesn't tighten up that well. And the ding isn't so great either. Better than nothing, and not a $50 Spurcycle. Somewhere in between.
Thank you for your feedback.
Casual Cyclist
near San Francisco
Cycling Enthusiast
Fort Myers, FL.
1 of 1 customers found this review helpful.
Cheap and simple does the trick
If you ride in a densely populated area, a small bell like this helps with safer passing of pedestrians and other cyclists. No one ever responds to my voice, but the bell gets everyone's attention...The Incredibell's retention strap fits around wide bars (31.6mm wrapped in tape) with no trouble. Removing it is a little tricky-just depress the ratchet with a ball point pen tip. Hitting the bell lever is an awkward gesture from the top of the handlebars, it would be better ergonomically if the lever moved horizontally instead of vertically, so you could pull in with your thumb without rotating your wrist. Despite these little issues, the Incredibell is well worth its XX price tag.
Thank you for your feedback.
Cycling Enthusiast
Seattle, WA
Excellent bell for all diameter of handlebars
Looked everywhere for a bell that would fit my larger diameter handlebars...this one is super adjustable, easy to mount in a variety of locations, and sounds great. The black color is nice as well. Great bell, and great buy.
Thank you for your feedback.
Cycling Enthusiast
Seattle, WA
Very efficient, compact, effective bell - with a nice ring!
Installs so easily, right where I want it on my handlebar. I bought two - 1 for my touring/commute bike and 1 for my road bike. For my road bike, I needed something super-lightweight and small (you know, the weight thing!). This fills the bill. No frills, just a great little bell.
Thank you for your feedback.
Works reasonably well to ensure a clear path ahead.
The bell itself is fairly loud, and it is easy to take on and off the handlebars. My only complaint is that the bell doesn't stay tightly in place. It keeps slipping so that it hangs upside down.
Thank you for your feedback.