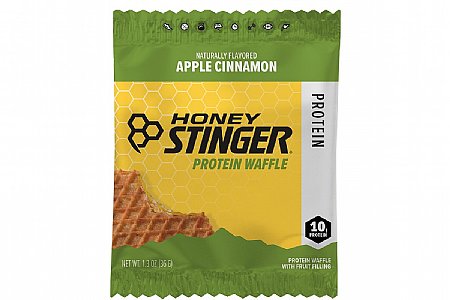 Disappointingly bad, almost inedible.
These were only such a major letdown because they smell amazing and honestly taste alright at first, but they instantly become almost inedible. They immediately turn to dry, crumbly dust in your mouth, and not even a big swallow of water helps to get them all the way down. I had to swish around another mouthful just to get it all out of my mouth and down my throat. As I said previously, they taste alright at first, but it quickly becomes bitter and any sweetness quickly disappears. It was all I could do it finish one with almost an entire huge glass of water. Had I brought these on a ride to eat, I wouldn't have been able to. Definitely NOT on part with Honey Stinger's usually excellent ride snacks.
Thank you for your feedback.
Cycling Enthusiast
fairview heights, il.
Ultimate snack for intense sporting activities - Will almost
Even with my bottomless stomach, especially with vigorous exercises, one waffle cookie will satisfy me through the routines, especially on the way back from a distant bike or jog loop. I have a huge appetite and feel hungry all the time especially upon strenuous exertion. I guess if I was to have a full meal w/ plenty of liquids (and pickle juice), that would be the ultimate. But we all know full meal would later weigh down and hinder the performance; therefore, Honey Stingers are the happiest medium to reduce the Bonk.
Wild Berry and Chocolate Stinger compliment the taste-buds just as well. As a matter of fact I go biking as an excuse to scarf down on those wafer-like cookies (j/j). Buying the Stingers in bulk (box of 12 and etc.) are ideal.
Thank you for your feedback.