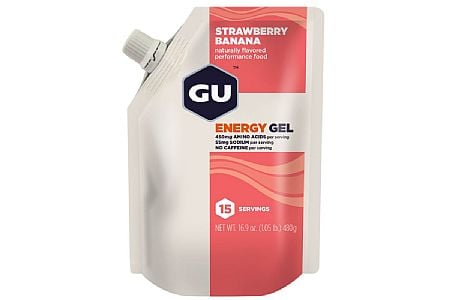 Cycling Enthusiast
Portland, OR
Best value
I'm a fan of GU for providing me everything I need from 2 hour rides to 8 hours. I get these bulk packs and squeeze 4 oz in to a Hammer 6 oz flask, add 2 oz of water, and shake. This gives me a much easier, less messy way to consume on the go. Best value, particularly when these are on sale.
Thank you for your feedback.
Competitive Racer
American Fork, UT
Great taste with a little kick!
Love the salted caramel flavor. Has a small amount of caffeine in it, it gives you a pickup without the jitters, so it can be used multiple times for long rides. At the sale price it was less than $1 per serving.
Thank you for your feedback.
Cycling Enthusiast
Maryland
1 of 1 customers found this review helpful.
Tastes good, easy to access on bike, prevents a bonk.
Like the taste, used this on a Gran Fondo and it worked. While I used the refuel stops to fill water bottles I didn't need to get food. Spent less time at the restrefuel stops more time on bike, finished faster.
Thank you for your feedback.
Cycling Enthusiast
colorado
Cycling Enthusiast
Southern Maryland
Cycling Enthusiast
Deep South
Buy only if it's on sale
Stuff works, 'nuff said...but...
At $1serving (the regular price), I don't find particular value in buying bulk. A GU competitor sells their bulk bottles at $0.77serving. The premium GU Roctane is $1.66serving. That MSRP is too steep for me.
Thank you for your feedback.
Cycling Enthusiast
Philadelphia, PA
Love this stuff.
Love the taste and very easy on my stomach. I have seen numerous comments about the flask and related on-bike storage but do not see 6 individual packets that each leak and make a royal mess after opening as being a better system. I do not want 6 opened, sticky packets in my jersey pockets. The problem is that gel is inherently messy and incredibly sticky - you cannot 100% empty it from any container. Personally, I would rather have a single large flask than repeatedly tear off the little opening tabs at risk of squeezing while doing that and covering myself with gel. And it is just not that hard to put a flask in a pot of hot water to clean it.
Thank you for your feedback.