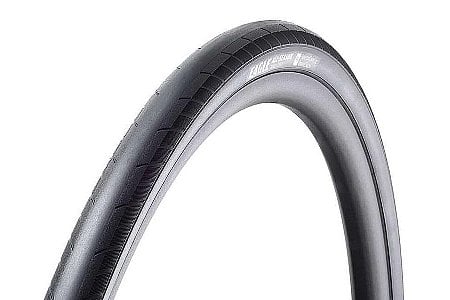 Cycling Enthusiast
San Diego, CA
The name alone made me want to give 'um a shot
It's been less than a year since I committed to tubeless. 3 bikes, a lot of trial and error, and I'm finally getting comfortable with setup and performance. To date these are my favorite road tires. At BTD's sale prices, and Goodyears commitment to a line up, they became a good gamble. I'm running them on Mavic open pro UST rims, 19mm internal width. The 25's measure out at around 27, the 28's around 29, and the 30 at 31. The 25's were tougher to mount by hand. My experience with this size in other labels I've tried, not including Mavic Yksions as their durability is so poorly rated, is there's just not enough material to stretch over the rim. This is compounded by protective belts that are so tightly woven I doubt there's little give in them. I would not run 25's but for clearance limitations on an older frame. Mounting the other two sizes was substantially easier. I push all into worse case scenarios so I know what to expect, but no wet roads as I'm a San Diagan. Running at low pressures, with a little extra air to cover loss during punctures, they hook up with confidence. They show little wear, but none have more than a thousand miles on them, so the reviews gotta stop here. I hope to get to the point were I can stop evaluating their performance during a ride, but for me this is still new tech, and therefore suspect. No catastrophic failures with any tubeless tires yet, nothing I can't deal with a boot and spare tube. But a Bad day will come. I honestly hope this review can help someone who's floundering as I have.
Thank you for your feedback.
by
Ridgewood NJ Bicycle Commuter
Daily Commuter
New Jersey
7 of 7 customers found this review helpful.
Best Tubeless for commuting that I ever had
This tire is great. Goodyear went the extra distance to make it state of the art. The material is supple. It mounts very easily because it is supple. I use HED tubeless rims. Imagine my shock when it inflated on the first try without any sealant! Yes it inflated the first try without sealant. I was thinking of riding without any sealant and thought that would be foolish.
Four months later, I have not had one puncture or one flat. It hardly loses air. I inflate once every two weeks. I am riding this tire from New Jersey to NYC everyday, 24 miles a day.
It is a great great tire for commuting. I hope Goodyear stays committed to bicycle tires.
Thank you for your feedback.
Trash
One star is plenty fair. I'm a more than competent home mechanic, wheel builder, and bike handler favoring User Servacability and Reliability. Testing grounds are the pothole, traffic ridden streets, and fire roads of San Diego county. I've gone through 3 of these tires in the last six months, I don't trust them. So, the third is a 30 mm low milage that has never made it off the tarmac. Running tubeless at less than max rec. pressure the side walls have begun to bulge and the threads break. Worse, the casing has developed cracks between the molding line and rim. I want to give them a glowing review. It's Goodyear afterall. But this third tire is joining the other two in the trash straight away. I look to come home alive at the end of each ride, and these tire undermine that expectation. I will not recommend them.
Thank you for your feedback.
Competitive Racer
santa fe, nm
good grip and looks but needs a lot more work
i have used these tires in both 30mm and 32mm. the rear tires on both sets separated internally and created huge bubbles on the surface of the tire between 400-450 miles. i contacted goodyear about this and they asked for photos which i sent them. they said they would pass them on to their quality control department and get back in touch with me. i have contacted them 3 more times and no response. bike tires direct refunded my money on both the rear tires. i believe the front tires were very close to having the same issues but i removed them before they had enough miles to separate. i am now using the pirelli cinturato tubeless tires with over 900 miles and they are perfect.
Thank you for your feedback.
Cycling Enthusiast
Seattle
Air bubbles under tread
Purchased these about 7 months ago. Went on easy and performed well up until a few days ago when I heard an odd sound and found a whole series of air bubbles had formed under the tread along several inches of the tire as if the casing was leaking air. Took the tire off and could find no perceptible damage on the tread or casing. Maybe Orange Seal Endurance sealant is breaking the casing down but seem odd. Wont buy again.
Thank you for your feedback.
5 of 5 customers found this review helpful.
Great wet weather tire
I was looking for a wet weathercommuter tire and figured Id give these a try. They mounted easily with fingers on a Reynolds ATR rim, and I even managed to get em to air up tubeless with just a floor pump. The ATRs run wide internally, 23mm, and the 30c Goodyear measures 31.5mm on this rim. So, yeah, they run a little narrow. After 1000 miles so far this winter, I have 0 flats, and the grip in the wet is really impressive, I dont have to change how I ride at all. Great tire
Thank you for your feedback.
Cycling Enthusiast
santa fe new mexico
3 of 5 customers found this review helpful.
good so far
i am only a little over 100 miles into these tires. the tires before were the mavic allroad elite that came with my wheels. these tires mount to the mavic allroad elite disc wheels well and do not leak air. i had a small puncture on the front at 40 miles. the stans sealant took care of the leak. i would have rated the tire with 5 stars if it wasnt for this puncture. i didnt have a puncture with the mavics at all in 1000 miles on the same roads. these tires grip as well as anything i have ever ridden on high speed mountain descents.
Thank you for your feedback.
Cycling Enthusiast
Columbus, OH
3 of 14 customers found this review helpful.
Not a fan
Struggled to get this to see on a Reynolds tubeless rim (which works just fine with Hutchinson tires). When it lost air on a ride and I tried to drop a tube in it, the side wall failed catastrophically (2 inch tear).
Thank you for your feedback.