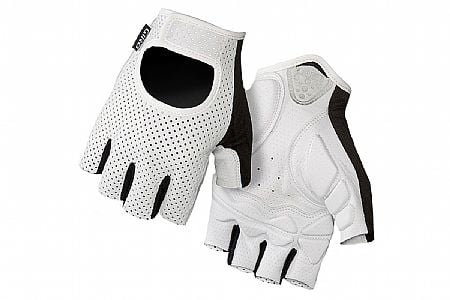 2 of 2 customers found this review helpful.
Finely crafted-runs small
My hands could have taken either the L or XL size according to the specs given. I like a bit of roominess so I ordered the XL size. The gloves still fit very tight, though I can wear them. I ordered these thinking the leather would be more comfy than the leatherette material in other gloves, in Miamis humid heat. The problem is the non-leather part is not cotton and feels very hot in this weather. I wd think this wd not be a problem in drier weather. The gloves are attractive and well made. If you like a bit of room get the next larger size
Thank you for your feedback.
Overall Hi Qyality
The gloves run true to size & seem well made with padding in the right places. I have several long rides in them. The leather palms do seem to get a little slick feeling in wet or very sweaty conditions but I have not actually had any actual slipping issues. I would give them 5 ? if they had something sewn into them to help get them off. I wouldn't want to NEED to get a glove off while rolling because it takes some doing.
Thank you for your feedback.
COMFORTABLE GLOVES
These are the BEST! Do your hands a favor, they feel GREAT. They wear well. Be sure to put sunscreen on the back of your hand. I use them with Brooks leather BAR WRAPS. They work well in the rain. They may run a little large.
Thank you for your feedback.
Cycling Enthusiast
BINGHAMTON, NY
Cycling Enthusiast
Woodside, CA
Great half-finger gloves
Best glove I have used. Velcro closure works great and provides a customized fit at the wrist. Gel padding does not impede bar feel, yet provides ample shock absorption. Perforations keep hands cool. Only slight negative is that as with virtually every half-finger glove I have owned they can be hard to remove, especially after a long ride on a hot summer day.
Thank you for your feedback.
1 of 1 customers found this review helpful.
Nice and cool
Nice gloves in general. Cool enough to wear on hot rides. Well ventilated and comfortable. Top of wrist velcro fastener can be openned with ease to improve ventilation. Interesting large exposed area on back of hand yielded sunburn spot. LOL
Ive had better gloves but they are no longer made. I have always wavored light, slip-on gel gloves without velcro closure for summer riding. These are the next best gloves in the common market.
Thank you for your feedback.
Cycling Enthusiast
Torrance, CA
Cycling Enthusiast
reno,NV
Cycling Enthusiast
Reno,NV
3 of 3 customers found this review helpful.
Good glove
I have worn these for years, probably my fourth pair by now. I do wish the padding was a bit less but it eventually breaks in and is not obtrusive. They breathe well and clean up nicely.
Thank you for your feedback.