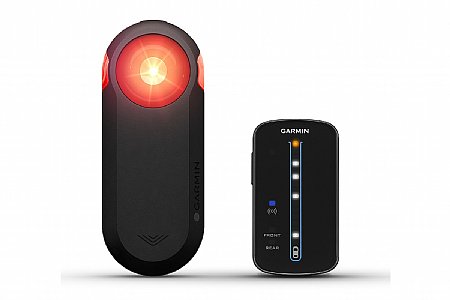 Cycling Enthusiast
Michigan
Most helpful on rural roads
This has replaced my rear tail light. I live in a university town, but often venture into country and farm land for 30-50 mile rides. It took some time to get used to the audible notification when motorists are first picked up on the radar. At first, I contemplated returning it because I found bleeps so distracting and annoying, but now I'm used to it. I think there's a way to set it up so that you only get the visual notification, but now I've gotten so used to the sound that I have to have that enabled. I don't think it replaces shoulder glances, but it's been the most helpful on rural roads, especially on windy days when it's hard to hear approaching vehicles. My biggest qualm is that it didn't come with a saddle bag clip. I have enough room on the seat post to mount the radar, and it doesn't seem to interfere with its functionality.
Thank you for your feedback.
Cycling Enthusiast
Nebraska gravel
2 of 2 customers found this review helpful.
Works great IF youre looking at it
I have the 520 with the visual and unfortunately no audible alert. That wasnt good. Unless you just happen to be looking down. I bought the display unit later, but could not hear it at all. Typical of middle aged men. Our hearing isnt what it used to be. So I velcro it to my helmet over my ear. Still nothing, its just the wrong tone for a former fighter pilot. The gear is nearly useless without a Bluetooth connecting tone generator or a volume control. However, as someone using radar on every flight of my career, it works great to track vehicles. I Evan tracked a chasing dog once.
Thank you for your feedback.
Casual Cyclist
Baltimore, MD
Provides a relaxed ride
This was very easy to set up. I no longer have to strain my neck to look for cars coming up behind me. It warns me in plenty of time to make sure I am out of the way of traffic sneaking up behind me.
The only disappointment is that I had to remove my seat bag.
Thank you for your feedback.
4 of 4 customers found this review helpful.
Both front receiver plus rear transmitter
I purchase these items to increase my safety margin and am extremely pleased. I did not want my 1030 display cluttered, which is mounted out front. The receiver display I have stem mounted. I am now never surprised, it only picks up closing traffic (even motorcycles) and makes crossing busy roads a snap. In a word- flawless.
Thank you for your feedback.
great idiot watcher
Tremendous relaxant in helping me watch out for the cars rushing up on me, ignoring my flashing rear lights, and bikers, particularly non-professional but 'amateur' distance riders, coming up my rear in the early morning darkness, with no luminous shirt, no effective reflectors because of dark darkness and very little lighting and a lot of big shading trees. I can get really to the side of the road out of the risk (i mean way). I have mirrors on both side handlebars, to help. But even in full daylight, it is impossible to continually 'keep looking at ' what is behind me, as well as obviously primarily in front. I was disabled, with no vision in left eye as a minor part.
A pity that these do not pick up pedestrians - then i could get one facing forward, for those approaching me in dark clothing with no lights, no luminous gear, and if they have a torch (IF!), and either that they move, or that flashes, so that oncoming bike and traffic can see.
I have found over the years, that with walking our (rescue) dogs at night, other than 1 solid beam for me to see with, flashing lights on my front and rear (flashing red at my front for oncoming traffic!) to be the most effective at alerting oncoming cars, bikes, and pedestrians walking the wrong way!
Thank you for your feedback.
Cycling Enthusiast
Delray Beach, FL
I don't ride without it.
I bought the Varia setup when it was introduced. I ride 20 miles, 5 daysweek at 0500 on a two lane road with little or no shoulder. For me, this is mandatory equipment, it's bullet-proof. For rear lighting, I also run this httpsbit.ly2XynzFA
Thank you for your feedback.
An absolute must for any street cyclist
Part of my route is separate bicycle roads. The other is shared with cars. I was very skeptical at first to trust this device but Ive used it long enough and every single time it was dead on accurate. I feel naked without it now. I still turn my head to check but its good to know it has my back
Thank you for your feedback.
Cycling Enthusiast
Hood River, OR
Best new product in years for rural riding, if you ride in an urban area just buy a good light.
For rural riding this radar is awesome, it picks up cars from a long distance. Paired with a Wahoo Bolt for me I have the Bolt LEDs set to warn me when a car pops up. It does an excellent job of telling you relative approach speed by varying beeps and colorspeed of flashing LEDs. And you can see one or more cars and their relative distance displayed on the edge of the screen in a strip like a road. Then I got one for my wife who rides a lot in my slipstream. She has the display for the radar instead of a device with a screen. I was surprised how tiny and light that display is. And in some ways it is better than a screen in very bright sun as the LEDs are high intensity. She was squeezed off the road by a guy passing into a blind corner and broke her pelvis last year. The radar now gives her a way to identify and manage approaching cars. Two negatives.... with the light on solid (it flashes when a car approaches fast) the battery goes about 4.5 hours. Another hour of battery life would be perfect. And in any sort of an urban setting the radar quickly becomes a nuisance, I just mute it. If you ride in an urban area dont even think about getting one, it will drive you nuts! But for rural use it is the bomb!! Currently using them on a long cycling trip in Australia and I am thrilled we have them with us.
Thank you for your feedback.
Great bike light Reliable and accurate safety device
The best compliment I can give it is that it works as advertised. The rear light is very bright. The radar component is as accurate as they say it is. It picks up cars and motorcycles from quite a distance. This was a good buy. I feel safer on the road with these on my bike.
Thank you for your feedback.
1 of 2 customers found this review helpful.
Excellent
I got just the main unit because I pared mine with a Garmin 820. Personally I would like that rear light on it to be brighter, but that is minor. The radar on it works flawlessly. It lets me know of cars approaching from the rear well in advance. I see the moving dots in the Varia Vision and hear the beep from the 820 (when used with a third party steering tube mount). All in all, it can greatly improve safety. Yes, when not on sale, it is expensive, especially when you need all parts (Varia, Garmin 820, and Varia Vision), but that is what it is and if you find the extra safety helpful, it is worth it (IMHO).
Thank you for your feedback.
Cycling Enthusiast
Northeastern CT
3 of 3 customers found this review helpful.
A great tool, especially for determining the number of vehicles coming up from behind.
Thought this would be gimmicky but GPLama and DC Rainmaker gave great reviews. Ive found it to be very useful for telling the number of cars coming up behind as well as their speed. It is reasonably good (80-90%) with motorcycles and even some bicycles. it really is helpful in alerting you when to move over or when there is an opportunity to move to smoother road safely.
Thank you for your feedback.