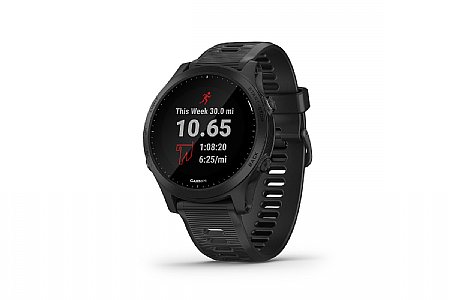 Cycling Enthusiast
Camarilo, CA
8 of 8 customers found this review helpful.
Most complete multisport watch!
I loved by Garmin 935 but the 945 takes it to a new level with more performance and health analytics, maps, swim wrist heart rate, and more. It's light too, barely aware it's on my wrist when running.
Battery life is great and will easily last for a full 140.6 mile triathlon.
I had read this was the best multisport watch on the market, I believe it!
Thank you for your feedback.
7 of 7 customers found this review helpful.
Love this watch
I really like this watch. I use the running, strength, cycling, hiking and walking widgets regularly. I am very impressed with the accuracy of the watch including the heart rate monitor (not sure about the heart rate during a strength exercise is completely accurate yet). It is very comfortable and the right size for easy visuals. The strength training app counts reps fairly accurately if the reps are done properly, and makes it very easy to correct the miscounted reps if necessary. I'm glad I purchased the Forerunner 945.
Thank you for your feedback.
Cycling Enthusiast
Portland, OR
2 of 2 customers found this review helpful.
Excellent watch. Tons of features
This is expensive but has a ton of features. I had a 920xt and it improves it in a number ways. I don't push this anywhere near the capabilities but it's nice to have support for features like onboard music and pulse tracking without having to deal with additional accessories. I've used this for both running and biking (and even SUP) but have not gotten into the pool with it just yet.
Also, I wanted to give a quick shout out to biketiresdirect. Even though I live in Portland, I had ordered the watch to be shipped. When there was a mistake and the watch ended up in Texas for several days, they took care of it with a replacement - no questions or double charges required - and just asked for me to send back the original if/when it arrived. The customer service was fantastic.
Thank you for your feedback.