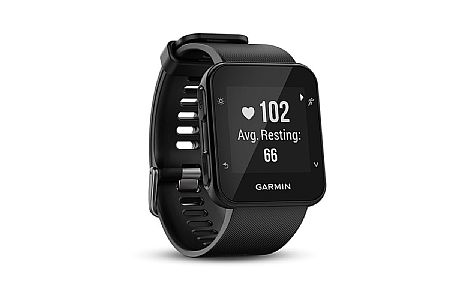 Cycling Enthusiast
Fort Myers, FL
Great for the job
I'm a rider, and bought this for my wife who is a runner. It is her first tech.
She likes the light blue band. She needed me to set it up for her and link her up to the Garmin App. So previous experience with Garmin is a plus.
Our two targets were pacing support and GPS accuracy in tracking mileage. This does both perfectly and isn't too ungainly.
Good tech.
Thank you for your feedback.
Cycling Enthusiast
Phoenix
Cycling Enthusiast
San Jose, CA
8 of 8 customers found this review helpful.
Bulky, not sexy, but perfectly functional
Fit & Style OK, this is not as sleek and sexy as an Apple Watch, but it's not $400 either. It's a bit bulky, and barely fits under the cuff of my dress shirts. But, I didn't buy it for looks. The user interface is simple and easy to learn, and easy to program for email & text notifications if you so desire. And battery life (because of it's low power, reflective display) is 3 days in my usage.
I bought this watch to track my heart rate (HR) while mountain biking. ( don't have a computer on my MTB.) The display is visible in direct sunlight, & the large fonts are easy to read so you do not have to take your eyes off the trail for very long. The GPS tracking is also accurate when compared against Strava. I did notice one small bug. When I ride my road bike - which is equipped with a Garmin Edge 500 - the watch tracks HR immediately, but the road bike takes 5 - 10 minutes to start accurately tracking HR (via chest strap). This does not occur when I'm riding my road bike without the watch. Therefore, it seems that there might be some sort of interference between the devices. Once the Edge 500 start working properly, the HR on the Edge tracks very closely with HR on the watch.
While I'd rather own the Apple Watch, I'd buy this again because I don't worry about knocking it around, the price is quite reasonable, and it's very easy to read in direct sun.
Thank you for your feedback.
2 of 3 customers found this review helpful.
good for running and cycling
Overall, we are satisfied with the GF 35. It does all the functions advertised by Garmin. The only issue that we have been having is related to 5th sync of activities with garmin connect. It sometimes seats idle and do not sync automatically. We have to do this manually by selecting in the watch the sync option.
Thank you for your feedback.
Cycling Enthusiast
Lancaster, PA
2 of 2 customers found this review helpful.
M y Daughter loves it!
Bought this as a gift for my daughter who is a runner (and a minimal cyclist). She is very pleased with it. It does everything she needs it to. Appears to be accurate and works well.
Thank you for your feedback.
2 of 2 customers found this review helpful.
Love it
I really love my new Garmin 35. I love the color and it is so easy t use. It is so much easier than carrying my phone with me. So far it seems to be pretty accurate. It is simple as I did not need a very elaborate watch with all of the bells and whistles and the hefty price tag that goes along with it. This watch is all I need and it was very affordable. I ended up buying two more for family members.
Thank you for your feedback.
7 of 7 customers found this review helpful.
Great GPS Watch!
The battery life on this watch is fantastic and the gps signal is very fast. I can start my run quickly and easily. The heart rate monitor is as accurate as it can be and is much more comfortable than wearing a chest strap. I had a tomtom runner watch before this and it doesn't even compare!
Thank you for your feedback.
1 of 1 customers found this review helpful.
Should have bought Garmin FR35 earlier.
I bike and walk and run so I want something I can strap on me or my handlebars. My previous wearable Garmins - the FR 10 and 15- worked just fine because I have simple needs. Distance, time, and tracking that generates a map after the run or ride. Except - they did not last long enough for the ride to the ride, the ride itself, the coffee stop, more ride, the lunch stop, more ride. You get the idea. This Garmin is supposed to last 13 hours. I have not tested that length of time. But it has lasted more than 6 hours. I have a small wrist and it fits fine. I like the aqua color band. I use it almost every day for some activity.
Thank you for your feedback.