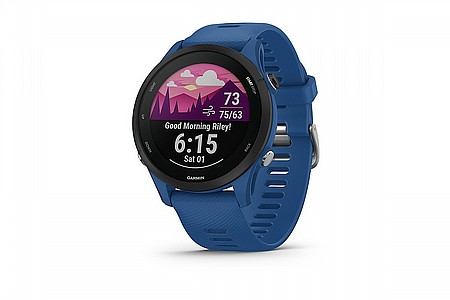 Amazing battery life
I got injured 4 months before Ironman California and was way undertrained for the race. I was very worried I wouldn't even make the 17 hour cutoff and that my Garmin Forerunner 255 battery wouldn't last the whole race for me. I charged my 255 the night before the race and topped it up race morning. As feared, it took me over 16 hours to finish but my 255 made it all the way through the race recording all of my swim, bike, run and transition data. Amazingly, my 255 did not need to be recharged for two more days after the race!
The Garmin Forerunner 255 gives me more swim, bike and run data than I know how to use. It provides what I want when I want it and the battery life is amazing.
Thank you for your feedback.
Cycling Enthusiast
Portland, OR
Awesome sports watch
This is a really great watch for tracking multiple activities. In the past month, I've used it to track my running, road and gravel cycling, walking, hiking, strength training, yoga, misc cardio, and swims. With all of these, I still haven't tried 2/3 of the available activities. The HR sensor can be broadcast to other devices like my Wahoo Roam. I loaded a training program to prep for a 5k race and there are also training programs for cycling as well as strength, yoga, pilates, and cardio exercise workouts that are easy to load on this watch. These last workouts include animations of each excercise and muscle maps. This is truely a multi-sport watch (sadly, it doesn't have kayaking but Garmin is always updating, so I can hope). The battery is great, much improved over the previous 245 and the GPS is VERY accurate. This watch basically is a new, improved version of the Forerunner 745. As far as I can tell, when compared to the 955, the main things the 255 lacks are music, built-in maps, and a touchscreen (and I don't need any of these). Love this watch!
Thank you for your feedback.