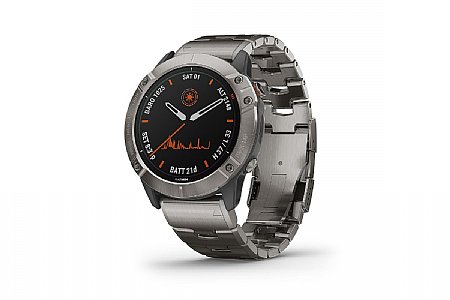 Great smart watch, locking clasp on titanium band scratches easily
Garmin makes a great smart watch but they don't know how to make watch bands at all. I lost my Fenix 5X pro swimming in a lake because the silicon band deteriorated after 2.5 years and the watch simply fell off my wrist and ended at the bottom of the lake. I replaced it with the Fenix 6X Pro Solar with the titanium band. After one week of use, the clasp plate with "GARMIN" written on it is completely scratched up. I expected more from a $1,000 watch.
Thank you for your feedback.
Cycling Enthusiast
St. Louis, MO
1 of 1 customers found this review helpful.
Very pleased with this watch, because I have been looking for a watch that would track heart rate while swimming as well as biking.
I wear the watch 247. I like that it tracks my heart rate and the enigmatic body battery. Also, having a severe case of sleep apnea I find the PO2 measurement valuable. many of the features I discovered after purchasing the watch. The solar feature is pretty much fluff, but I preferred the appearance of the solar edition over the sapphire edition.
Thank you for your feedback.