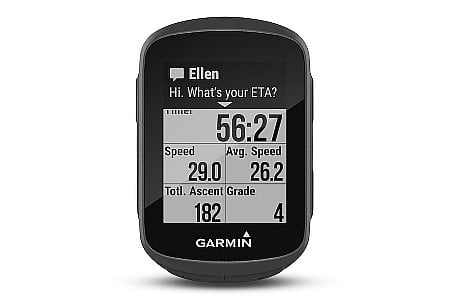 5 of 5 customers found this review helpful.
One for the minimalists
Great tiny GPS that punches well above it's weight and size. Couldn't believe how small it was when I unboxed! Some initial bugs to be expected with any new Garmin release, which Garmin has mostly ironed out with FW upgrades. I've been using the device since it was first released a back in May and have't had any major glitches or ride loss so far. Note If you take full advantage of multiple sensors(powercadence, HRM, Speed) and features(LiveTrack,BT pairing, GPS-Glonass), battery life will be considerably less than advertised - realistically is more like 8-10hrs for me. Garmin should be more upfront about this in their marketing copy.
I don't really use the navigation features much, but its nice to know I can have the ability to at least upload up a simple course in a new area or to scout a new route. The only thing I find myself missing is the ability to load interval workouts-but honestly I do all my workout rides indoors these days anyway, so this is more of a nice to have. YMMV.
Bugs - elevation ht not always accurate (although accumulated elev will be correct)
Hits
Strava segments, Customizable data pages, text alerts, LiveTracking, very sharp screen, fast GPS lock, fairly easy setup and menus.
Misses
Battery life, elevation accuracy
Buy it if you don't need the more robust navigation and workout features of the 520520
Thank you for your feedback.
Capable computer with nav in a very compact package.
This compact cyclecomputer does all I need it to, and more. I haven't used the nav function as yet. It fits conveniently on the stem, reducing bar clutter. The Garmin connect app is fun, and would have satisfied me when I was training seriously. Its a big improvement over my Polar M450, but also uses the bluetooth Polar sensors so i saved some bucks that way.. Battery life is about 12 hours, so you randos will need some kind of charger, although you can turn off the gps and just use a speed sensor. No complaints
Thank you for your feedback.
Cycling Enthusiast
Seattle
Small with good battery life
My first gps computer. For strava was using my phone andor watch (plus a Bad Elf for long rides). I cant stand having gadgets on my handlebars and so most gps computers are way too big. The problem with the small ones is battery life is too short. My phone and watch didnt last long enough either. Im very pleased with the 130. Everything is super easy and automatically uploads from Garmin Connect to Strava and Training Peaks. Way more capable than old methods and its small enough to live on my stem without getting in the way.
Thank you for your feedback.
Cycling Enthusiast
NW Indiana
2 of 2 customers found this review helpful.
Compact, w features I need
I'm not a big tech geek. I found the 130 to have the features I want in a small package. My 25 ran out of battery on 100 mile rides (6hrs). This 130 has yet to display low battery. Biggest con is lack of adjustment w auto stop speed.
Thank you for your feedback.
Cycling Enthusiast
Winnemucca, nv
1 of 2 customers found this review helpful.
Battery life appears to be hype. Not reality.
I bought two edge 130 I followed user manual to extend battery life. No sensor, gps only, minimize back light. Battery lasts 7 hours rather than 15. Battery pooped out on death ride. Cant imagine it will last for LOTOJA. What gives.
Thank you for your feedback.
Cycling Enthusiast
Albuquerque, NM
1 of 1 customers found this review helpful.
You need to have an Edge 130
The Edge 130 is all you will ever need. For the average biker like me (60 to 80 miles each week iIt gives you all the information you need to chart your progress or lack there of.
Thank you for your feedback.
1 of 1 customers found this review helpful.
A hit!
I had my doubts about purchasing this under $200 Garmin Edge device, but as of right now, I have zero regrets. Small, but yet so powerful and the battery life is remarkable. Two thumbs up and its the most simplistic and best liked of all my bike cyclocomputers. Yep, and I own a huge Edge 1030 as well.
Thank you for your feedback.
Cycling Enthusiast
central oregon
a devise for better training
The Garmin Edge 130 does everything that I need. The real reason for this purchase was so that I could see gradeslope of the hills I was climbing. I have some steep hill climbing rides coming up and I wanted to know what I was training on so that I would feel confident for the upcoming rides
Thank you for your feedback.