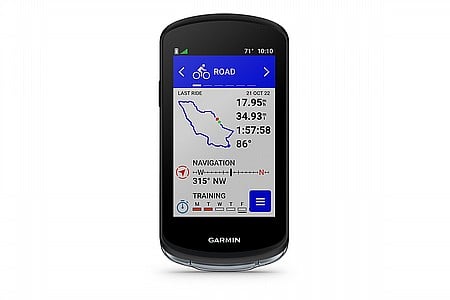 Cycling Enthusiast
DC Area
6 of 6 customers found this review helpful.
Good Graphics and Battery Life
I bought this Edge 1040 as my Edge 1030 battery was no longer keeping a charge so I was looking for new device. I read the DCrainmaker review and found this device should meet my longevity requirements. I have so far done a few 40 to 50 mile rides which have only taken my 1040 down to around 93 percent which really works for me. Also, as a side benefit the new graphics is so much cleaner and easier to read which is definitely great for my old eyes.
Thank you for your feedback.
Cycling Enthusiast
Orange County, CA
6 of 6 customers found this review helpful.
1040 - Nice Upgrade from 530 but Issues
Got this1040 to upgrade from 530. Particularly interested in bigger map screen and better map controls. No disappointment there. Display is great. Processor works so much faster - a delight. Haven't done any of the bells and whistles like work outs, etc. Battery life is great - don't see need for Solar. Cons: Just like the 530, the Group Connect is something my group has yet to have any success with - major disappointment. Also, hoping for a firmware update on the Climbing screen - there is a major lag from where you are on a climb and what the screen shows. Too bad because the graphics on the screen are great. Dark red means you will be suffering.
Thank you for your feedback.
Cycling Enthusiast
South Bend
14 of 14 customers found this review helpful.
Improved incrementally
I have been a long time user of Garmin computers, and just upgraded from the Edge 1030. I've done one ride, and here are my first impressions:
1. Battery life seems to be better. This matters a lot to me as I'll do 3 - 5 hour rides with linkage to my phone and I hate worrying about having the battery die. I did a 3.5 hour ride today, high brightness and connected to the phone and only used 30%. Other than if I would do Unbound XL (not happening), I see no reason I'd worry about battery life
2. Weight: Technically this weighs a few grams more than the 1030. Didn't seem to slow me down
3. Screens/Font: This is perhaps the greatest improvement I've observed so far. Much clearer font - just everything seems easier to read
4. Easier to load routes: I don't know why, but from Garmin Connect it just seemed easier to move my routes (created in Strava) to the device.
5. Home Screen is an improvement. This probably is personal preference, but I think this is better.
I've not tested all of the features, but I'm sure there are some I will eventually use. So, if you just like having the latest and greatest for your bike, this is worth getting. If an earlier version is working for you, especially a 1030 or 1000, the new features may not give you enough reason to spend the money.
Thank you for your feedback.