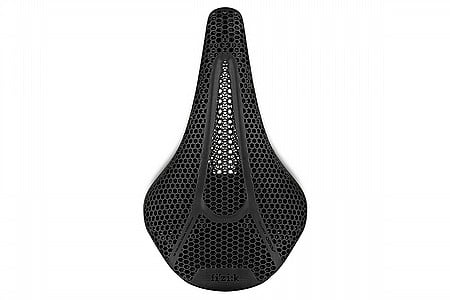 1 of 1 customers found this review helpful.
Complete comfort
This saddle really has exceeded my expectations, Fizik truly has outdone themselves with this one. I actually first bought the Antares 00 Adaptive and got along fine with it, it is very stiff yet somehow still comfortable enough for long rides. Unfortunately it was destroyed when I got hit by a car, I was going to buy the R1 version to replace it as it is supposed to be more forgiving. The new bike I bought came with the cheapest Vento Argo and I actually really liked it so I decided to buy the adaptive version of it here and I�m really glad I did. I haven�t been able to do any serious distance on this saddle yet as I�m still recovering but have done a couple of 40 mile rides with no discomfort whatsoever, my backside felt exactly the same at the end of those rides as it did at the beginning - I�m sure I could do 100 miles on it no problem if the rest of me would cooperate. The saddle is super high quality as you might expect from Fizik and the 3D printed top delivers on what it promises in my opinion. Sure it is expensive but as far as I�m concerned it was money well spent. I probably would have bought the 00 version if it was being made, I emailed Fizik customer service to ask if it was in the works but they said they had no knowledge of future offerings so we�ll have to wait and see.
Thank you for your feedback.
Cycling Enthusiast
Saugus, MA
The perfect saddle?
This saddle has exceeded my high expectations, Fizik has produced a masterpiece in my opinion. I love the 3D printed top, it really does seem to work as advertised even with my 210lbs trying to squash it down. I was using the Antares 00 Adaptive saddle, which I really liked even though it was super stiff, but it was destroyed when I got hit by a car. I planned on replacing it with the Antares R1 Adaptive but the BMC Teammachine I bought came with the Vento Argo R5 and to my surprise it was more comfortable for me than the Antares so I decided to get the adaptive version here.
I just rode 7 out of the last 8 days trying to increase my fitness averaging about 25 miles per ride and have absolutely no discomfort from this saddle, my longest ride so far has been 44 miles and again no sign of discomfort. I'm sure once my body is able to go the distance I will be able to do 100 miles on this saddle no problem. Obviously this is an expensive saddle and while not the lightest it's light enough for all but the most stringent weight weenies, to me it was worth every penny as I have never been more comfortable on my bike.
Thank you for your feedback.