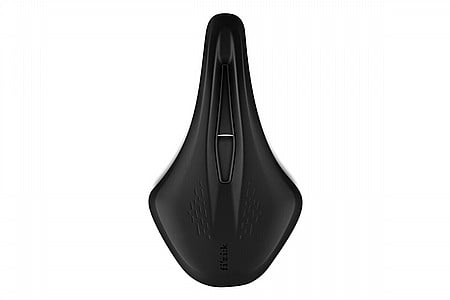 by
Anonuymous Gravel Biker
Competitive Racer
Portland, OR
Hands down, this saddle flat out works!! :)
I am one happy owner of the Fizik Terra Argo X3 Saddle. I bought this saddle with the intention of using it for a mixture of Gravel & Road riding, albeit for my Gravel Bike. As for myself, this saddle has made a huge difference in my daily riding. Comfort, stability and performance come to mind without the feeling of an over cushioned seat. This saddle is firm, but compliant and does an excellent job of dampening vibration when riding on washboard gravel roads. I have 500 miles plus on this saddle and haven't had one saddle sore yet!! Most of my rides consist of 2-4 hours time in the saddle. Please note that there are two different sizes in this saddle ... a 150mm and 160mm width. I chose the 150mm for my style of riding which is training, racing, and time in the drops. I did consult with the Fizik directly about the sizing, and they suggested the 150 mm for my style of riding (Racing) which coincides with my physical measurements. As a result, I ended up purchasing the same saddle for my custom gravel bike build project. Lastly, this saddle flat out work! I have found it to deliver in every aspect of the market claim made by Fizik. It's hard for me to imagine if there is a better saddle out there. For a greater technical description feel free to go Fizik's website.
Thank you for your feedback.
Competitive Racer
PDX / Ontario, Canada
Attention Gravel Riders... here is your new saddle!
Enter the Fizik Argo X3 Saddle ...
It's hard to believe that I have finally found a saddle that delivers as advertised. The Fizik Terra Argo X3 is a result of sound design and engineering coupled with the input of medical expertise. As a result, I am feeling much greater comfort and stability in my Gravel Bike adventures which consist of pavement & various dirt and gravel roads. Moreover, the sensation I get is less vibration which gives me better weight distribution and stability while in the saddle. Good bye numbness, hello comfort! ; ) This saddle feels less restrictive than my previous saddles as well. I feel much more confident at higher speeds and feel like I have greater control of my bike. Indeed, this saddle is great for climbing, faster riding in the drops and out of the saddle sprinting. It's everything that a bike enthusiast or gravel racer would want in a saddle. As for my saddle spec ... I purchased the 150 mm width as it was recommendation when I contacted Fizik personally. I did mentioned that I wanted the correct saddle width that fit the bill for Gravel Racing. I am 6'1" tall. Lastly, if you're debating this saddle, I say go for it. This saddle is not going to bankrupt your wallet and it's clearly the best value for the dollar. Thank you again BikeTiresDirect.Com for stocking a great product!
Thank you for your feedback.
Cycling Enthusiast
Cascade foothills.