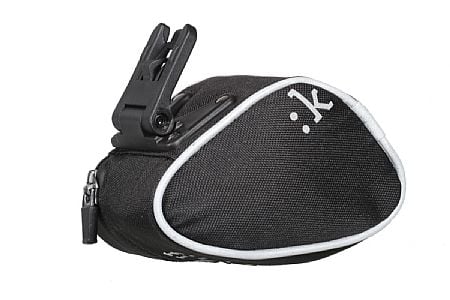 Very shaky!
The bag bounces a lot due to the flex in the mounting bracket. I can see where all the complaints of the mount also potentially snapping over time which would be a hugh bummer. Just didnt care to risk it so the bag is essentially useless.
Thank you for your feedback.
1 of 1 customers found this review helpful.
The pivot hinge breaks
I had the previous version until the hinge broke. The bag was okay until then, though it would bounce more than similar bags. I have since learned from others that the hinge is a problem.
Thank you for your feedback.
Cycling Enthusiast
mountains
new design
have had the previous design for years (opens at the end) . love it. somebody HAD to change that. now I will have to remove the bag to access my tools, tubes, etc. (side opening). really, really like the clip in design, but not the side opening. my old one has been trouble free, i'm sure this one will be the same. IF IT WORKS DON'T FIX IT!!!! I should have looked closer at the photo, but still would have bought it
Thank you for your feedback.
Cycling Enthusiast
Mississippi
Cycling Enthusiast
San Francisco
Warning, not secure. Falls off saddle mount.
This version does not work as well as the previous generation of ICS mount bags.
After 2 rides the bag fell of in noisy traffic somewhere, so I didn't hear it drop. Went back to look but never found it. Lost $50 worth of equipment.
Used the previous generation Fizik bag for years with no issues.
Thank you for your feedback.
Competitive Racer
Reno, NV
Works great with my dropper post
I always like having some basic tools and a tube no matter when I ride, so having a seat bag is great. But I also love my dropper post. Most bags somewhat interfere with the dropper, but this solves that problem as it stays completely clear of the action of the dropper. Only works with the Fizik saddles, but I ride one of those anyway, so this is great. Fits a 29 tube and some toolsparts.
Thank you for your feedback.
Cycling Enthusiast
Tualatin, OR
Snaps into my Fizik seat, very cool
I'm a minimalist and love how this seat bag has no straps, and nothing chafing against the seat tube. It simply snaps into the Fizik seat. I fit two tubes, two CO2 cartridges, tire iron, some allen wrenches and tire patch material inside.
Thank you for your feedback.
Cycling Enthusiast
Portland, OR
Cycling Enthusiast
San Diego, CA
Limitations are Easily Fixed.
I have been using the Mini for years and like others I found it flying off quite easily. But the engineer in me came up with a solution that has resulted in no fly offs in many, many years. You need two 8 inch cable ties and a 14 inch drill. Simply drill through the clip after you snap it in. Then use the two cables tie to feed through the clip and loop one over and around each seat rail. Tighten them down and trim. This is a .25 cent solution that takes five minutes to implement. And if you move between bikes, simply cut the ties and get yourself two more ties to reattach. Using this technique makes the seat bag the best out there, since you don't rub holes in bibs, shorts, etc. I've taught this to many, many riders and they see the light and wonder why they didn't think of it. LoL.
Thank you for your feedback.
Klik Seat Bag will fit in the overhead compartment !
This bag is on my Synapse which also has a Fizik Saddle , a big plus since it secures with their system. This is a roomy bag for longer rides where you might want extra stuff. I have the smaller version of this bag on my other bike and I have to say I like this better. The Klik is a tad awkward to open since the entire side of it unzips rather than the back like the mini so depending on how you pack be careful nothing falls out. I may take it on my next vacation as a carry on. You can fit a Speedo , your passport ,credit cards , phone and a roll of hundred dollar bills in it no problem. Honestly what more do you need?
Thank you for your feedback.
2 of 2 customers found this review helpful.
Nice idea, but falls off
I'll echo what Memphis biker said-the integrated clip design is a great idea, and the older version of this bag seemed to work fine. This one, though, just doesn't clip on securely. It has flown off my bike on every long ride I've done that includes rough road patches. Do not buy unless and until Fizik addresses this issue.
Thank you for your feedback.
Cycling Enthusiast
Memphis, TN
1 of 1 customers found this review helpful.
Great design idea. Pathetic execution.
This bag is designed to clip onto the rear of a compatible Fizik saddle. It's a great idea, but executed so poorly that it flies off repeatedly on rough roads. I would chalk this up to a single flawed unit except that several of my road mates reached the same conclusion, and chuckle at my grousing. Do not buy this!
Thank you for your feedback.