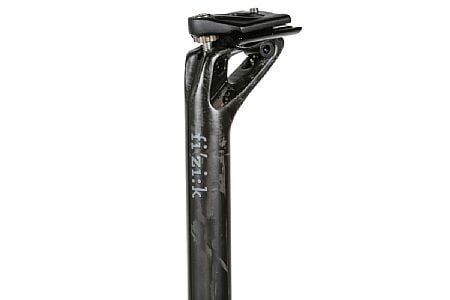 Cycling Enthusiast
Orlando, FL
High quality seatpost
While looking for a more comfortable "forever" saddle, I thought this seatpost would help. The description says it's designed to flex slightly. Slightly is the operative word. VERY slightly is more like it, so don't expect much. Other reviewers have complained of creaking, but if you use grease as described in other reviews, you'll be fine. And yes, the saddle adjustment is a bit fussy. However, once you get it setup, that's it, you will be good to go. This is a sturdy, light weight, quality seatpost that should last a very long time.
Thank you for your feedback.
Competitive Racer
Far NorCal
2 of 2 customers found this review helpful.
Takes the edge off
I bought this post to upgrade the OEM post on the T-Lab X-3 I bought this year.
While it isn't quite as compliant as the Specialized CG-R post I have on my cross bike, it is way lighter, better looking, and does smooth out some of the chatter on gravel.
Thank you for your feedback.
Cycling Enthusiast
richmond va
1 of 1 customers found this review helpful.
Flawed but service was over the top!
I purchased this seat post the beginning of April, and i was impressed with it's affect on the ride of my road bike. The seat angle adjustment was a bit finicky but i was able to get it right after awhile though it did come loose on a couple of rides. Towards the end of the month the post cracked right under the seat clamp mechanism. I contacted BTD and they forwarded me to Fizik's warranty claim dept. I sent all the information with photos in and even though in the middle of the Virus pandemic i received a replacement within 1 week from Taiwan!! And 1 week later i received another seat post with an obvious re-design. Very difficult to ask for more especially during these difficult times. Excellent product and company!!!
Thank you for your feedback.
Cycling Enthusiast
Vancouver, WA
1 of 1 customers found this review helpful.
Incredibly Comfy
I was feeling the road a little more than I wanted to on my new bike, so I decided to take the plunge and try out this seatpost.
SO GLAD I DID! I was shocked how much smoother my bike rode. It minimizes road vibrations without taking any energy away. No bounce or rocking back and forth. Sure you'll still feel pot holes and bumps, but the rest of the road drastically disappears.
Still can't believe it.
On my scale it comes in at 187 grams and that's the 31.6 size.
Looks great in person, and haven't had any slippage.
Thank you for your feedback.
Cycling Enthusiast
Minnesota
1 of 1 customers found this review helpful.
My favorite seat post Easy to adjust and great compliance.
Great seat post - Fizik has simply the best method for adjusting the tilt on a seatpost. You loosen the front bold and then turn the thumbscrew until you have it where you want it then retighten the front bolt.
I had gone away from previous Fizik Cyrano posts when their carbon post didn't have any real compliance. This is a redesigned post with the offset being used as a carbon cantilever arm to provide great compliance.
Pro tip Disassemble this seat post before using and lube with grease the two pivots where the bolts secure into the seatpost to get rid of any creaking.
Thank you for your feedback.
Cycling Enthusiast
Vancouver, WA
1 of 1 customers found this review helpful.
Love this post.
I bought this post hoping it would smooth out my ride a little bit, and it did just that.
Does the road disappear completely? No, but was it a noticeable difference? Yes! It's very easy to install and adjust and holds my Di2 battery fine. I've not had any noises or slippage and it looks better in person. This post does what it claims to do without feeling any flex or bouncing. I weighed it with my gram scale at 187g for the 31.6 size.
Thank you for your feedback.
Needs assembly compound to stop squeek
This is a really nice light weight post, but it took a few days to figure out how to stop the squeeky noise. Initially I thought it was the postframe connection, nothing I did would make it stop...untill I realized it was from the postseat connection. The plates which clamp the seat are aluminum, the post is carbon. When I took the fizik seat clamp appart and applied carbonalloy assembly compound to the joint between carbon post and aluminum plate, problem solved, the squeeky sound ceased.
Thank you for your feedback.
Cycling Enthusiast
Upstate, NY
Cycling Enthusiast
Minnesota
7 of 7 customers found this review helpful.
Easy adjustability and great vertical compliance
I have always favored Cyrano seat posts from Fizik for their adjustment mechanism - it's simply brilliant. A thumbwheel to adjust the tilt and then you tighten down the rear bolt to snug it up. It is far easier to adjust tilt on this post than on almost any other post I have used. That said, prior Fizik carbon and especially their aluminum posts are rigid and lack almost any vertical compliance making them uncomfortable if you have a frame that doesn't not have a lot of vertical compliance.
However, this seat post is amazing. Prior to this, I had been using a Ritchey Flexlogic seat post which was designed with considerable vertical compliance and which effectively took out a lot of harshness of a ride on a rough road. However, that post got it's compliance from, essentially, fore and aft movement which turned the post into an egg shape as it moved and caused it to slip. Very difficult to hold vertical position with that post. Long story short, it was time for a change.
When I saw this post, with the unique cantilevered carbon arm, I gave it a try. This post has just as much, if not more, compliance than the Ritchey (which was very good) and it has that wonderful Cyrano Fizik adjuster! I bought it, put it on and am very pleased. This post gets it's compliance from the flexing of the cantilevered arm (up and down and not fore and aft). Does a great job at taking out the harshness of the ride and is easy to adjust. This just became my new favorite seatpost.
Thank you for your feedback.
2 of 2 customers found this review helpful.
A simple, clever design
Lots to like about this seatpost: (1) a simple attractive design which looks as though it should provide good compliance; (2) its saddle clamp accepts 7, 7x9, and 7x10 mm saddle rails without having to buy special parts; (3) the two bolt front/rear clamping system should eliminate the worries about slippage that you get with single bolt designs that rely on friction; (4) it�s reasonably light: the two 31.6 x 330mm ones I have weigh 195 and 197g (minus the neat rubber sealing ring, which adds 7g in case you wondered).
Setting the saddle angle is not as simple as shown in the wordless �pictograph� instructions enclosed. They indicate that one uses the front thumbscrew to set the angle and then locks the saddle in place by torquing the rear screw (both are titanium T25 Torx). If one is using a digital level (naturally the bike must be leveled axle-to-axle first), one quickly sees that tightening the rear screw raises the nose of the saddle by a degree or two. Which might not be visible without a level. The trick is to tighten the rear screw in steps, after each step using a T25 to tighten the front screw to bring the angle back a bit past the target value. Hopefully you will end up with the rear screw arriving at the final torque of 7nM before the front one does.
Take your time, being careful to fully seat the T25 driver into the screw heads before applying force. If you strip one of the heads, you won�t find a replacement at your local hardware store, and Fizik didn�t reply to emails. Using fresh T25 drivers may help: Crescent T25 1/4� drive sockets for your torque wrench cost only $3 on Amazon.
As other reviewers said, before you start it�s wise to disassemble it (one screw at a time, maybe taking photos as you go so as to get the spherical washers and pivots back the right way!) and lightly grease the screw threads and their pivots.
Also worth confirming that the multi-tool you bring along on rides includes a T25 driver!
Thank you for your feedback.