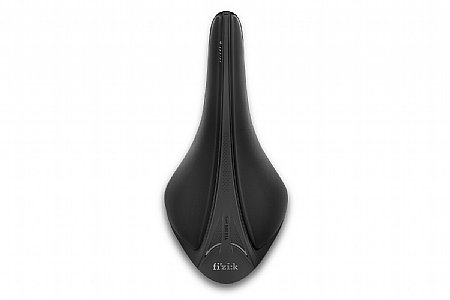 Good Saddle, still sore
Was in search of finding a good saddle to relieve some pain on my sit bones. Disappointed this didnt fix my issue but I cant fault the saddle when its my problem to deal with. This is a light weight option, has very thin padding and will likely keep it on my road bike until I cant stand it any longer.
Thank you for your feedback.
Cycling Enthusiast
Spokane WA
Not the same fit as older Arione
Not the same profile as previous Arione have owned. Returned this saddle because it did not support my sit bones correctly , also, the tail of the saddle rises slightly making it difficult to use. . Very high quality but
Thank you for your feedback.
Cycling Enthusiast
So. California
Fizik got it right with this generation of their Arione Versus saddle.
I have been searching for months for the correct saddle for me. Well, my search is over. This is a great saddle, light and very comfortable even on 4-5 hour rides Excellent value and orderingdelivery were seamless. Great job by Biketiresdirect.
Thank you for your feedback.
Cycling Enthusiast
Brenham, TX
Does exactly what I bought it for
Replaced an Arione R3 with this saddle. Liked the R3, but I would find myself on one side of the saddle to take pressure off the pineal. Replaced with the R1 Versus, a thinner saddle with the center cutout. Could have probably gone with R3 Versus, but this one fits me well AND I know have no issues with the carbon wrapped seat rails and seat post chewing on my bib shorts. The channel is well done - I do not even consciously or otherwise notice it, just that I now comfortably sit in straight in the saddle. I can ride seated forever and have no issues with numbness, and the thin saddle is so easy to get up from and then sit back on after climbing. Will see how durable it is, but have put several hundred miles on it and looks brand new as you would expect.
Thank you for your feedback.
Casual Cyclist
Cerritos CA
Cycling Enthusiast
San Luis Obispo, CA
4 of 4 customers found this review helpful.
Light weight and all the benefits.
I've been a Fizik Arione user for over 10 years and needed to replace an older model. I'm running this on my road bike and very please with the weight. It maintains all the same benefits of older models with rider position and movement, comfort and now has an added feature for pressure relief in that sensitive area.
Thank you for your feedback.
Cycling Enthusiast
Rockford IL