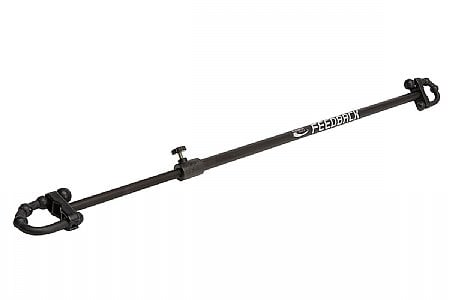 A handy little multi-task capable tool
This little item is a clean & sturdy simplistic
design from Feedback that can serve as a bicycle transit aid or as handlebar and /or front wheel position lock when bicycle is in your mechanic stand or a through the hollow crank or rear wheel type stands. It installs in seconds a safety holds position via the handle bars & the seat post with gentle touch rubber fasteners & telescopes to desired length, then can be lock in position with a friction thumb screw it's made from strong light weight aluminum & will store inside any tool box with at least 23 inches of clearance. You will not want to work on your bike without using this ingenious inexpensive little tool that will make your bike wrenching adventures a little more professional & a little less stressful?
Yes, I highly recommend this item!
Thank you for your feedback.
Cycling Enthusiast
Georgia
Daily Commuter
Santa Monica
Cycling Enthusiast
San Jose, CA
4 of 4 customers found this review helpful.
Simple Yet Effective
You know how frustrating it is when you have your bike in the bike stand, working on say adjusting disc brake calipers, and the front end of your bike is flopping around like your drunken college friend? This gadget removes the frustration factor. And it works on all my bike with easy length adjustment and the elastic rubber strap faster.
I hesitated getting another non mission critical tool but I'm glad I added this one to the tool box. Regarding durability.... The only thing I'm concerned about is the rubber strap at both ends of the holder. It may get hard and becomes brittle over time but that may take many years if you don't leave it out in the sun so it's all good.
Thank you for your feedback.
Cycling Enthusiast
San Jose, CA
The First One was Great, This One So So...
I've had one for a few years and liked it enough to order a second one. I really wanted to try the Park Tool version but that one requires space free of accessories on the handlebar like GPS, headlight, etc.
The second one I ordered came bent and unusable and BTD sent me a good one right away- you can always count on BTD's great customer service. The new one was in good working order but I was not impressed w the workmanship. The collar w the tightening bolt which controls the length was not secured firmly on to the alloy tube. It seemed that the diameter of the collar was hair too big for the alloy tube which it slides over. I flared out the tube a bit and now the collar is secure. I never had this problem w my first one. Based on this experience, I'll try the Park Tool one next. But I guess I need to get yet another bike to try it out !
Thank you for your feedback.
Cycling Enthusiast
Yorba Linda, CA
1 of 1 customers found this review helpful.
Great product if you like to wrench on bikes!
This is one of the tools I often use when I have my bikes on the work stand. Easy to use. It is unobtrusive so it is very rarely in your was and can be easily be repositioned. I had a similar tool for years and was disappointed when it finally broke after 10 years or so. Thankfully it is available again. Highly recommend this if you like to work on your own bikes and frequently flip the bike around in many different positions. Buy it!
Thank you for your feedback.
Casual Cyclist
South of Sin City
2 of 2 customers found this review helpful.
Handy when working on or storing bike!
Although I did not give the Handlebar Holder Five Stars, I still own two! I use the holders when my bikes are hanging up and ready to ride...keeping the front wheel straight, and when working on the bikes on my maintenance stand.
The reason for only four stars is that the set screw that should lock the bar at length does not always hold the length if the front wheel is bumped firmly...like when removing a bike from the storage stand. This is not a huge issue and not worthy of a whole star deduction, but it is an issue for me. If the set screw knob was a little larger, maybe I count tighten the set screw tighter. But that might also damage the rod or strip the screw.
Again, I like the Handlebar Holder enough to own two, the first being very old and the second just a couple months new. The holder is very easy to use, lightweight, sturdy, and affordable.
Thank you for your feedback.
Casual Cyclist
Happy Valley, OR