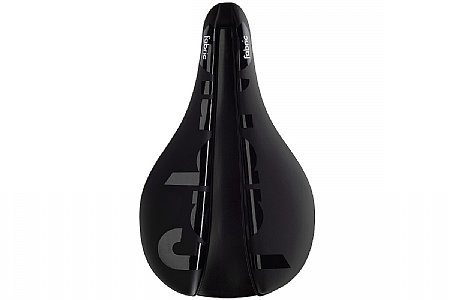 Great quality, but saddles are personal
This is my third Fabric saddle I've had and I'm always impressed with the quality finish of their saddles. I have wider than average sit bones so I got the wide version of this, though I'm wondering if I should have tried the narrower version, which is still wider than many saddles, but occasionally I can feel the edge of the shell pressing into the back of my lower glute or upper hamstring area. It's only if I'm in a more upright position, and mostly just when I'm carrying my backpack. Not a deal breaker, but I wonder if it could become a problem on rides longer than a couple hours, which is the longest I've ridden on it so far. However, in a more aggressive position on a fast group ride I don't have that problem at all, and it feels great. As with the few other short nose saddles I've tried, you may have to fiddle with the position a bit more to get it right for you, but I'm definitely sold on this style.
Thank you for your feedback.
Cycling Enthusiast
Nashua, NH
Didn't work with a setback post if you want to cant the nose
I was really looking forward to riding with this saddle, given the positive reviews of it, but unfortunately found out when laying it in the rail beds of my Domane SL6's setback post I wasn't going to be able to use it. Due to the way the rails are set on the saddle, which are pretty far forward, plus their short length, it's impossible to cant the nose down the way I like it, around 4-5 degrees. This just basically lays flat or cants down about one degree, which coupled with the rise in the tip of the saddle on the seat's top surface, would make for an uncomfortable ride for me. Padding seems good and not hard like way too many road saddles these days.
Thank you for your feedback.
1 of 1 customers found this review helpful.
Best saddle ever!
Best one ever! Super comfy one short or long rides. Actually reduces pressure where you need it to unlike other saddles with a cut out in the middle. That and it looks great like a normal saddle without looking like an ugly weird thing like those ones with two seperate sides that have been around a while now started with tri folks and TT racers. Ive ridden TONS of saddles over the 20 years of road and mtb/bmx riding, and for road/mtb this is the best yet. Light weight/ ti rails, looks good and super comfortable. Im switching all my road and mtbs with these. My wife loved the wider version so thats on her bikes now. Should just say "look no further, this is what youve been looking for" hahahha
Thank you for your feedback.
1 of 1 customers found this review helpful.
Super comfy!
Just completed a 40 mile ride with this saddle and I have to say I experienced nothing but comfort. Normally there's at least some mild pain associated with any road saddle I've used. Those days are over.
Thank you for your feedback.