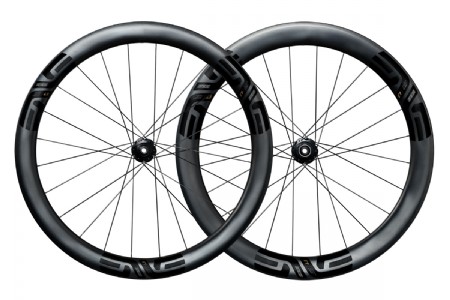 User submitted reviews
Review by David

Fast, stiff and compliant

I love, love, love this wheelset. I ride in flat/ hilly area. I was thinking about getting ENVE 3.4, but I am glad I bought 4.5. This wheelset is fast, stiff, and does really well in cross winds. Fast and stiff doesn�t usually translate to compliant or comfortable, but this wheel is 25mm internal and 32mm external, and it can hold large volume of air, which translates to lower tire pressure and comfort. I highly recommend this wheel to anyone that are looking for high performance wheelset.

Thank you for your feedback.
Review by Front Range Cyclist

Cycling Enthusiast

Fort Collins, CO

Fast and fun

Bought a set of these wheels last fall after spending a week riding them on a rental bike during vacation. From the first ride I was absolutely in love and had placed my order with BTD before I had even returned my rental bike or flown home from vacation. They are stiff, fast, and really, really fun.

No one would ever accuse me of being a fast descender or corner-er, but after one group ride on the rental bike I received the extremely unexpected (and unsolicited) complement that I was ripping the descent on the way home. I give 100% of the credit to the wheels, fitted with Enve's 29mm road tire btw. Absolutely love the tires as well.

To address the tubeless/hookless concerns that many people (justifiably) have, these have been incredibly easy to set up. So far I've run the Enve 29mm road tire and the Pirelli Cinturato Velo 28mm tire. I have been able to remove them by hand (no tools needed) and replace them with a single tool to help get that last 6 inches over the rim. Individual results may vary.

Lastly, and this might be the only "criticism" of the wheel, is that at 50+mm depth they can be a bit more susceptible to cross wind instability (but if you aren't prepared for this you probably shouldn't buy a wheel of this depth). That said, I've put in several rides this winter under extremely windy conditions and the wheels behaved very politely given their depth.

Thank you for your feedback.
Review by JAN

2 of 2 customers found this review helpful.

Great set of wheels

This is by far the best set of wheels that I have used. They are super smooth when accelerating and the crosswinds hardly affect them if at all. The tubeless set up was very straight forward. Also, the freehub sound is very low key which I prefer over a loud one.

Thank you for your feedback.