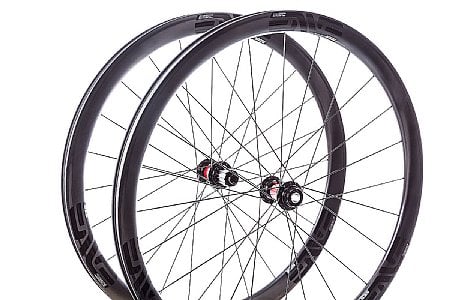 Cycling Enthusiast
keizer, or
Excellent performance and finish.
Excellent finished, really nice looking rim. The Chris King hubs have been very smooth, very quick on descents. Very little pushing from side winds with the depth of these rims. Running continental 5000 tl tubeless with no issues. Very happy with these rims.
Thank you for your feedback.
Cycling Enthusiast
Sammamish WA
Over 1500 happy miles so far and still true and rolling smooth and fast
Last week I purchased my second Enve SES 3.4 Disc Wheelset from BTD, my go-to web and bikeshop, and now have about 125 miles on them. The set I purchased in May has over 1500 miles of great riding on them. Both sets are thru axle and I mount them with Continental tubes and Grand Prix 4000sII tires 700x25. Compared to my I9 hub wheels they are quiet. They arrive with the signature of the ENVE tech who certifies each wheel. Each wheel has arrived true and continues to spin true and fast. I have a set of very inexpensive Carbon FSAMetron wheels that perform well too. The difference is in cross wind stability and uphill rolling. The Enve wheels are fast, stable, and excellent uphill. I have one set on a Lynskey Helix Pro Road bike and the other on a Lynskey Cooper CX Cross bike. I ride primarily on roadsasphalt. They are not cheap, but they are my favorite. Don't hesitate to reach out to me with any questions.
Thank you for your feedback.
0 of 1 customers found this review helpful.
I returned them
Mounted tires, rode around neighborhood. Couldn't figure out why the rotor was rubbing. Oh, because the wheel is way out to true. Maybe they were like that out of the box, maybe a spoke wasn't seated properly and my 2 minute ride seated it. Not acceptable either way.
Wheels feel pretty good once trued, get a week of mileage on them. Then after a ride I notice my rear tire casing has a 1 long cut right at the rim edge. Took tire off and discovered this was in the area of the carbon patch that ENVE uses to seal the rim bed from the bladder used in manufacturing.
BTD was very good throughout the RMA process.
Thank you for your feedback.
1 of 1 customers found this review helpful.
Excellent Wheelset
Excellent wheelset .... expensive but worth the money if you can afford it. My subjective experiences been these wheels are 2 to 4 miles an hour faster than my previousSLR wheel-set that came with the Giant Defy. Light enough to climb well... but really shine on the flats.
Thank you for your feedback.
2 of 2 customers found this review helpful.
Lovely wheels but no lockring
The wheels are fantastic with a nice finish, as you would expect from Enve and at this price. Come with tubeless tape and stems if you want tubeless setup, but does not come with a rimstrip if that is your preference.
I was surprised to find that the wheel did not come with lockrings for the rotors, and finding them as spares proved to be quite a challenge. So if you don't have the correct lockrings already, you should start looking for them ...
Thank you for your feedback.