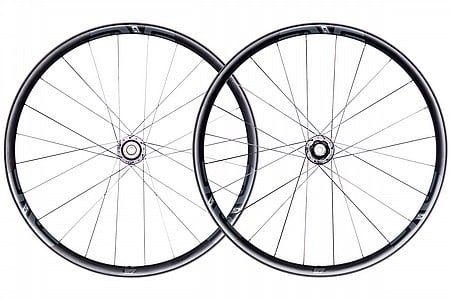 User submitted reviews
Review by Gravel sometimes

Cycling Enthusiast

Fort Collins, CO

Solid performer

I've had them out on one ride so far (mounted with Pirelli Cinturato H 45mm), and covered everything from pavement to gravel to single track and back again. The wheels definitely performed to my expectations as a premium brand. In particular, the Enve hubs were smooth and fast-engaging. Mounting the Pirelli tires to the G27 was as easy as any tubeless set up. Seated with a floor pump no problems. During the whole ride (extremely windy btw), the wheels felt predictable while also plenty fast and fun.

My only minor stumbling block with these wheels (Enve in general) is the absence of rim tape from the factory, which is forgivable since they are internal nipples and it doesn't hurt to true the wheels out of the box, and no center lock rings. Just feels like they miss the mark compared to most other premium brands.

Thank you for your feedback.
Review by Crash

Great wheels so far

I'm running these with Rene Herse 650x48 Switchback Hill slicks on an OPEN U.P.P.E.R. and have about 170 miles, half gravel half road. They are great so far. They feel fast even without any aero benefit. They feel light when climbing and my pair weigh 583g for front wheel and 703g for rear wheel (shimano free hub). As expected with 650s, they feel more agile on steering through technical areas, but they're a little twitchy on road descents above 25mph compared to 700c's but easy to get used to. Highly recommend.

I did in-store pickup and it was friction-less. I also called support once for advice and they were very knowledgeable. I'll definitely buy here again.

Thank you for your feedback.
Review by CSCyclist

Superb Wheels, at a cost

The best gravel wheels you can get - lightweight, durable, smooth-running. The only problem is the cost, but you get what you pay for.

Thank you for your feedback.