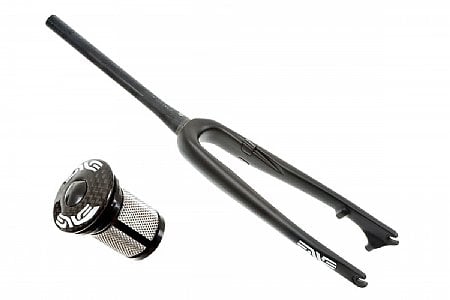 Cycling Enthusiast
Cincinnati, Ohio
3 of 4 customers found this review helpful.
Super nice ENVE cross disc fork
This is my first cross disc carbon fork. It is very attractive looking fork with nice thick blades. The post disc mount is for 160mm out of the box so no adaptor is required. This is nice since most disc forks are designed for a 140mm disc and will need an adaptor to use a 160mm rotor, which will add some mass and disturb the look. The UD finish looks cool without those traditional carbon weaves. Like the small logo one on each side at the bottom so it does not screen ENVE too loudly. On the road, this fork seems to be pretty rigid, which is desirable for a solid front end feel. There is pretty of clearance for a typical 35c cross tire. It will fit a tire a lot bigger than 35c but I have not try one yet. This is an expensive fork but buying it from Biketiredirect is a good value with the gold member discount program. All and all, I am very pleased with the purchase of this fork and will not hesitate to buy another from Biretiredirect.
Thank you for your feedback.