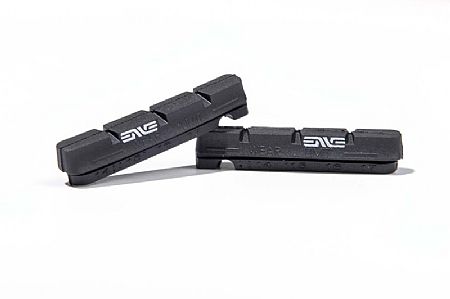 Cycling Enthusiast
Knoxville, TN
Works great with my Enve wheels.
Had a lot of brake squeal at first, but once I did a better toe-in as per Enve, rarely get a few squeaks now. These Enve wheels with the textured brake track slow down so much better than my old wheels with the smooth brake track. Pads wear about normal for carbon wheel pads.
Thank you for your feedback.
Competitive Racer
Spokane, WA
2 of 3 customers found this review helpful.
A must for using with your textured ENVE carbon wheels, nothing else works
I ride almost daily and over one month did 27 rides, about 900 miles of hilly back roads and over 51,000 feet of climbing and descending. I have to de-glaze the break pad faces weekly. They hold up, other secondary market pads just melt on the ENVE carbon rims, so you have to have these to safely ride with ENVE carbon rim wheels with the textured brake surface. It's a high maintenance brake pad but you have to do it or you don't stop and no one will ride with you because you brakes squeal so bad is you don't de-glaze them with a file or course sand paper and wire brush.
Thank you for your feedback.