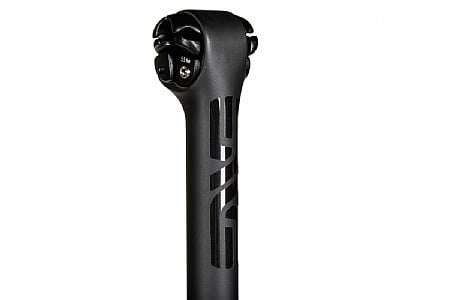 4 of 4 customers found this review helpful.
Great for a gravel bike
Spec'd the Enve seat post on my ti gravel bike and could not be happier with the selection. I suffer from back issues herniated discs in the past and find a tremendous benefit in comfort with a carbon fiber seat post. It's the one part I won't skimp on. I went with the 27.2 mm post for some flex and give over the bumps and love the feel of this seat post. It also looks amazing too with the matte black finish. The adjustment is pretty straightforward and simple. To be honest, after all my research, I found this to be the best carbon fiber post on the market and my back would agree with how it dampens out the road fuzz.
Thank you for your feedback.
Competitive Racer
Eugene, OR
1 of 1 customers found this review helpful.
Somewhere to mount your saddle
Building a carbon gravel race bike over the winter and giving it the full ENVE treatment. I've been very happy with ENVE products in general. For things like stem and seat post it's hard to justify the extra expense because I'd argue it's hard to tell the difference between high end and budget, but I like to support US companies, particularly ones that also manufacture in the US.
Thank you for your feedback.
9 of 10 customers found this review helpful.
Great post, easy installation
After breaking a second Campy Record Carbon post in the past 5 years and given that they're pretty much unattainable, I decided it would be okay to defile my full Campy Colnago and I took the dive and went for the Enve post. Excellent fit and finish and stealth aesthetic. I've read complaints that it is difficult to adjust but I have to disagree completely. The dual wedge design is ingenious and all you need to do is get the seat tilt located approximately where you want it, tighten both wedge screws just enough to hold everything loosely together, and alternate tightening one wedge and then the other a little at a time to dial in the precise seat angle you want. No crawling around under the saddle to access bolts you can't see and can only wrench 14 turn at a time. Very well designed. I can't say I feel any difference in ride quality as it was a carbon to carbon swap. However, I also installed Enve Bar and Stem, replacing old school ITM aluminum and WOW! Huge difference in rigidity and ride feel with the carbon cockpit. Expensive kit but seems to be worth it.
Thank you for your feedback.
4 of 5 customers found this review helpful.
Engineering at its finest.
This seat post is expensive but what an upgrade, it adds a level of comfort I did not expect. I�m a heavy rider so this might not be noticeable to some but I can feel the seat post flex slightly on larger bumps and potholes, combined with the Cambium C13 saddle I might have the most comfortable bike on the planet. I have done plenty of long rides including a 105 mile mission and have not had to worry about saddle discomfort at all. The clamp is a bit tricky to set up especially if your used to the traditional clamps but nothing you can�t handle, an added benefit is the effective setback is definitely greater than 25mm if needed since the clamping area is so small. ENVE also supplies clamps for both round and oval rails, most companies would rather sell you the oval setup separately. I really can�t recommend this seat post enough, if you want to drastically improve your ride don�t hesitate to buy it.
Thank you for your feedback.