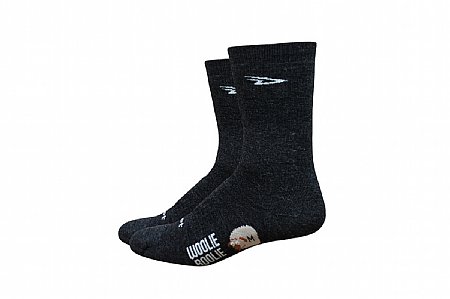 Cycling Enthusiast
Vancouver, wa
My go to cool weather socks
Woolie Boolies are great socks! Short height, long height, it doesn't matter. They can be an every day socks and then can go on the bike. I find them comfortable all the way up to the mid 60 degrees. Perfect for commuting in spring and fall , when it cool in the AM and warmer later in the day.
Thank you for your feedback.
Awesome Socks!
DeFeet Woolley Bullies are the best wool socks I have experience. Made with high-quality wool, just the right amount of give, and for some reason these socks shape to your feet with a type of memory. Love them for a medium wool sock and work with biking applications also.
Thank you for your feedback.
Cycling Enthusiast
Northwest New Jersey
2 of 2 customers found this review helpful.
High quality sock for all winter applications cycling, hiking, or just keeping warm
I purchased four pairs of DeFeat's Woolie Boolie 6 inch socks for using during the winter riding and hiking season. With the extra padding on the foot, nice seam stitching, and all around high-quality construction, these are recommended for anyone going outdoors, or those looking for added warmth around the house. The socks wear well, do not pull or lose their sizing. The socks' front is nice and square, thus making it not binding within a cycling, hiking, or walking shoe.
Thank you for your feedback.
Cycling Enthusiast
Memphis TN
Cycling Enthusiast
wine country ca
Cycling Enthusiast
princeton
Cycling Enthusiast
N. Michigan
Daily Commuter
Bethesda MD
Competitive Racer
Portland, OR